Main Content
Update on campus activity

Dear Members of the Wake Forest Community,
Welcome to our newest class of Wake Forest students and, to our faculty, staff and returning students, welcome to the start of this new academic year. I have looked forward to the new term and feel energized by the prospect of new beginnings. I also remain deeply grateful for the opportunity to serve Wake Forest, and to be among such talented students and committed faculty and staff. This is indeed a great place to be!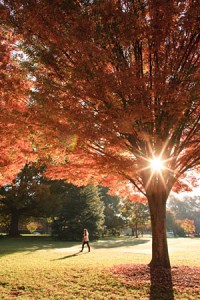 This year offers a wonderful opportunity for Wake Forest students to prove something I know to be true: we know how to have a great time together and to celebrate while being inclusive, responsible and considerate.
Last week I communicated with you about the work of the students, faculty and staff on the Student Life Committee and the Committee on Off-Campus Residential Life. As I said in that email, the "Living Our Values" report that resulted from those committees' work reflects a dual concern for the dynamic social atmosphere of our campus and the safety and success of each of you. If you have not yet had a chance, please visit wfu.edu/vibrantcampus to review that email and the full report.
The Division of Student Life has also created a new website, called PartySmart, that will help student groups to host events that abide by our campus policies. The site will allow for quick registration of these events so that planning is not a burden.
It is a priority for me that this campus be the center of student social life. We are working on a new event space–"the Barn"–to host events on campus. The idea behind this facility gained momentum from students in the spring; it will provide a safe, on-campus location for a wide range of student events. The Barn will be located in a new clearing behind Palmer and Piccolo Residence Halls. I am particularly pleased that the Barn will be built with sustainable features such as rainwater harvesting, and its site was selected in order to minimize impact on forest resources. More information is available by clicking here.
In addition, the cross-country trails are being improved as part of this project in consultation with our new coach, John Millar. The Barn is scheduled to be completed during the spring semester, and a temporary event space has been created in Reynolda Village to be used until the Barn is ready (and has already had a successful start).
Student leaders have been an important part of shaping these plans and policies, and helping us develop them in ways that are straightforward and appropriate. We depend on everyone in the community to commit to a refreshed and renewed campus life.
Changes on Campus
As you settle back into campus life, you will notice some changes around you. Perhaps the most obvious is the newly-completed South Residence Hall. In many ways, it is vintage Wake Forest: Old Virginia brick, mostly double dormitory-style rooms, and a formal parlor. It is unmistakably different too: monitors on each level show which halls are conserving energy, and solar panels heat tanks of hot water in the attic. These features were part of the building's certification as our first LEED structure, recognizing sustainable design and construction.
A couple of years ago, we revitalized the Fresh Food Company, and as a result "the Pit" is more popular than ever among students, faculty and staff. In response to student concerns, we have added 80 additional seats for a 15% increase in capacity. The Sundry Shop has been moved to Benson, where it will have a larger space without decreasing seating there.
Just outside Benson on Manchester Plaza, crews are completing a student gathering place memorializing the contributions of the historically African-American fraternities and sororities on our campus. The new campus space, which represents the member organizations of the National Pan-Hellenic Council, will be dedicated on October 1. I hope you will save time that day for the dedication and reception.
We also have welcomed new leaders to our campus since the beginning of the last semester. Dr. Gail O'Day has joined us as the new dean of the School of Divinity. Professor Jennifer Collins, a member of the law faculty, was appointed associate provost for academic initiatives. And when we head back to LJVM Coliseum for the basketball season this winter, we will cheer on the Deacons and their new head coach, Jeff Bzdelik. In each case, these leaders share a passion for the things that make Wake Forest special.
An Exciting Start
It is always gratifying when others note the extraordinary quality of Wake Forest. I am pleased that we have returned to the US News & World Report Top 25 National Universities list and that the magazine highlighted the commitment and excellence of our faculty in undergraduate teaching. That affirmation is a wonderful testament to the values we treasure here and to the deep commitment our faculty and staff make to our students. I hope that as this new semester begins, you will join me in seeking ways to make this place that we love an even better Wake Forest.
Earlier this summer Wake Forest University received news of a magnificent $3.67 million grant–the largest humanities grant ever received by the University–for the Character Project that will enable professors Christian Miller (philosophy), William F. Fleeson (psychology) and Michael R. Furr (psychology) to develop their work on the nature and quality of character. This is a great example of how meaningful our commitment to the liberal arts and to the education of the whole person can be.
This grant is also exciting because of the ways it will support student learning and research. I am proud of the many ways our faculty members draw students into their work, which happens in every department and area of study across campus. I urge you to take advantage of the unique opportunities available to be part of the creation of new knowledge.
Fall Opportunities
One of the most important advantages of being on a college campus is the availability of lectures and concerts. The Wake Forest community is characterized by intense interest in the intersection of education and service, and we are welcoming a number of speakers this semester who offer models for bridging that divide. Bestselling author John Grisham will begin the Voices of Our Time series on September 14, 2010, by discussing the issue of wrongful convictions and how his commitment to assuring justice has transcended his writing. The Worship in Wait series will welcome a diverse group of theological voices, including biblical scholar and cultural critic Marcus Borg (October 24, 2010) and Presbyterian leader and pastor Earl Palmer (November 14, 2010).

In addition to these lectures, there are Secrest Artist Series concerts featuring Broadway and Baltic music, as well as concerts, plays and art exhibits featuring work by your talented peers. Visit arts.wfu.edu and seize the opportunity to learn about new kinds of creativity and expression.
I hope for you a semester that challenges you in unexpected ways and that rewards you richly for your curiosity and investment in this community. Best wishes, and I look forward to seeing you around campus.
Sincerely,
Nathan O. Hatch
Recent Posts
September 4, 2020

August 21, 2020

August 17, 2020