President Hatch salutes the faculty, staff and administrators who make Wake Forest a splendid university and issues a challenge to the Wake Forest community to support the core vision of the collegiate university: bright students, brilliant professors and a vibrant campus community.
The English poet John Masefield once noted: "There are few earthly things more splendid than a university." I think he is right. At Wake Forest, we have the astounding privilege of welcoming outstanding young people, potential leaders of the next generation, into a community and a conversation that have animated the halls of Wake Forest since 1834. What greater challenge can you imagine than "forming"—and I use that word advisedly—forming the minds and hearts of young people of such talent and commitment. They come with all of their energy and exuberance, all of their commitments and dreams, all of their concerns and fears.
We see them read, ponder, and debate; and in that elusive but magical process of learning, we rejoice when that flash of insight crosses a student's face; when, without prodding, their repose is suddenly awakened, as if by the blast of a trumpet, and they see the world as never before.
We watch them make friends, many for life. We watch them explore everything from theatre to Ultimate Frisbee, from student government to marching band. We watch them learn and grow, expand their horizons, exult in the thrills of college sports. We watch them make mistakes and make course corrections. We are an intimate part of their pilgrimage toward becoming mature adult women and men of focus and integrity.
There is something magical about such a community of learning. Wake Forest has been a transformative force in the lives of students. It has the potential to become even better and more distinctive in the days ahead.
I am deeply grateful today for the commitment and creativity that so many of you have shown in enhancing this as a community of learning. Wake Forest is a community of great people and, together, we are step by step making this a more vibrant place of learning, of social engagement, and of service.
A Salute
This afternoon, I want to offer a SALUTE to you who have worked to make this place better. I then want to speak about a great OPPORTUNITY and CHALLENGE before us: the capital campaign, a principal means we have to advance our common goals.
I am grateful for our stellar teachers and the time and care they spend engaging our students both inside and outside the classroom. It is a challenge to single out faculty in this regard because engaged teaching is the rule here, not the exception. Wake Forest is, after all, ranked 12th nationally among schools whose faculty have an unusual commitment to undergraduate teaching. But by way of illustration, let me mention three faculty who have recently been honored. Ron Noftle was named by the Camille and Henry Dreyfus Foundation as one of twelve Senior Scientist Mentors for his decades of working with undergraduates. Music Professor Susan Borwick was awarded the Wake Forest Teaching Innovation Award for taking her course on American music into the community. Last spring Assistant Professor of Mathematics Jason Parsley received a distinguished teaching award from the Mathematical Association of America. His teaching is described as "interactive, experiential, innovative, hands-on, and challenging."
I salute Jacque Fetrow, Dean of Wake Forest College, for her vision and initiatives, particularly on behalf of the faculty in the College. Jacque has been especially successful in helping faculty advance their own aspirations in teaching and research.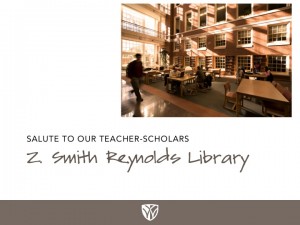 I am grateful to the faculty and staff of the library, who have made that place a dynamic force in campus life; to Tom Phillips and the Fulbright Campus Committee who just mentored, interviewed, and endorsed 46 Wake Forest seniors for the U. S. student Fulbright program. I am grateful to talented colleagues like Perry Patterson, Andy Chan, and Allison McWilliams, who are improving on our strong tradition of advising and mentoring.
I am grateful to dozens of humanities faculty led by four individuals—Sally Barbour, Mary Foskett, Dean Franco, and David Phillips—who have launched the new Humanities Institute at a time when the role and value of humanities study is being hotly debated in our culture. It is also noteworthy that six of our humanities faculty gained funding from the National Endowment for the Humanities, the highest number in our history. In speaking of the humanities, let me offer a warm thank you to Michelle Gillespie for her three years of superb work as Associate Provost and for playing a vital role in helping launch the new Humanities Institute. We are a stronger and better institution for all that she did; and we look forward to her book on Katharine Smith Reynolds.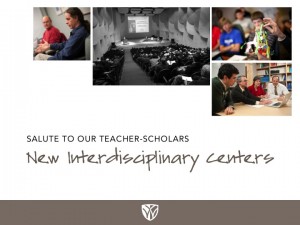 I am grateful for three other recently approved centers that are building important networks within our faculty: the Center for Enterprise Research and Education; the Center for Energy, Environment and Sustainability; and the Center for Molecular Communication. I am also pleased that we have new efforts to build bridges between the College and our professional schools: the Translational Science Center and the Center for Bioethics, Health, and Society, which with the addition of Professor Anna Iltis in Philosophy now has anchors in the humanities, medicine, and the law school.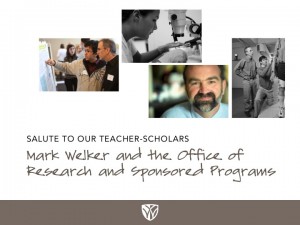 I am grateful to so many of our Reynolda faculty whose research productivity has never been higher. Last year Reynolda Campus faculty received over $14.3 million in new awards, over $5 million more than our previous record. Thanks to Mark Welker and the great work of the Office of Research and Sponsored Programs. A special word of congratulations to Christian Miller, Will Fleeson and Mike Furr for their $3.67 million grant from the Templeton Foundation for interdisciplinary research on the subject of character. David Carroll deserves mention for his creative research in nanotechnology. Through his efforts the University has received the first patent for a new solar-cell technology that can double the energy production of today's flat cells at a fraction of the cost.
I am grateful for the vision in the Wake Forest Law School for pro bono service, public interest careers and community outreach. On the basis of these efforts, embodied in several new clinics, Dean Blake Morant was just awarded the Equal Justice Works' prestigious John R. Kramer Outstanding Law School Dean Award.
I am heartened by the creative new Master of Arts in Management in the Business Schools, a ten-month program that enrolls approximately 100 students in each class. This year 62 undergraduate schools were represented; 59% of the class was underrepresented minorities and 46% were women. Dean Steve Reinemund has built numerous sets of corporate partners for these efforts.
It is a pleasure to welcome Gail O'Day as the new dean of the Wake Forest Divinity School. Gail brings great experience from her years at Emory University and great creativity as she and her colleagues work to continue to support the distinctive place of theological education at Wake Forest and in the broader world of theological education and ministry.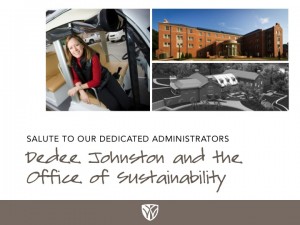 We are indebted to Dedee Johnston and to a wide range of faculty, staff, and students who have been involved in our new Office of Sustainability. From conferences and lectures to electric vehicles and new recycling programs, from a new academic institute to internships and summer programs for high school students, this office has been a force for collaborative action across our campus. It is also wonderful to see the first LEED certified buildings on Reynolda campus: South Hall, the new residence hall for first-year students; and our new admissions and welcome center, which should open early in the spring.
Today, I salute Andrea Ellis and her colleagues in the Office of Human Resources for all of their efforts in the Professional Development Center. Their active programming has done much to provide ongoing professional advancement and leadership training for colleagues across the university.
I am grateful for great senior leadership at the University who, facing both times of fiscal constraint and strong ambition, have worked together to craft a path that has allowed us to make progress on our core distinctives. Let me begin by saying that I love to come to work in the morning because of my colleagues in the President's office: Chief of Staff Mary Pugel keeps more balls in the air than one can count and does so with tremendous grace and good will. Our executive assistants Donna Gung and Nancy Moore handle a prodigious amount of work while never forgetting that what is most important are the people with whom they work. Special Assistant to the President Marybeth Wallace, whose devotion to Wake Forest seems integrated into every aspect of her life, provides exceptional attention and mentoring to our Wake Forest fellows and our President's aides.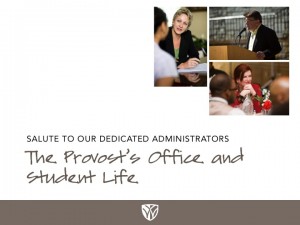 Jill Tiefenthaler brings her infectious energy and good will to a broad swath of academic and student life. She and Ken Zick, along with Mary Gerardy and everyone in student affairs, have done a superb job in a coordinated plan of action to bolster residential living and campus vibrancy. What a remarkable difference in activities on campus we have seen this fall. Site work is under way for new student social space called "the Barn." Estimated completion of that project is the end of the spring term.
Reid Morgan functions as senior advisor to almost everyone on what is right and proper for Wake Forest in view of its distinctive history and tradition. Matt Cullinan has done a terrific job in strengthening our administrative capacity and in hiring great people. Under the leadership of Mike Tesh, we have a strong human resources department.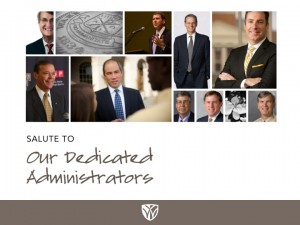 Under the direction of Jim Alty, our facilities department is professional, service-oriented, and technically competent. And John Wise, who manages Graylyn, has also worked to oversee and greatly strengthen our food service operations on this campus. Mark Petersen has brought great vision to the crucial task of planning for our capital campaign and building an organization to carry it out. Ron Wellman continues to build an athletic department that in its people and programs represents the finest of intercollegiate athletics and reflects the values of Wake Forest.
Just over a year ago, in the summer of 2009, Wake Forest welcomed two new members of the Cabinet and both have made signal contributions. Andy Chan is building a nationally recognized program in personal and career development for our students; and strengthening our capacity in mentoring and entrepreneurship. Jim Dunn, our new Chief Investment Officer, has overseen strong performance in the endowment while reducing our overall risk profile. At the same time, he is using the resources of his office to help our students with internships and placement; and he is involving his investment managers in the life of the Business Schools.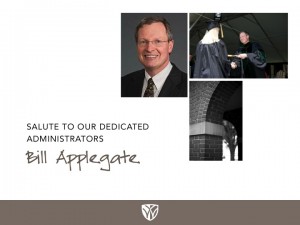 Dean Bill Applegate will be stepping down at the end of this academic year at the Medical School. Let me say how much I have appreciated his leadership in times of transition. Bill is a first-rate physician, a national leader in health care, a compassionate problem solver and good friend. We wish him all the best as he transitions back to a set of challenges in academic medicine that he wants to pursue.
I also want to thank Nancy Suttenfield for her four years of service at Wake Forest and for her strengthening our financial infrastructure. I welcome Hof Milam back to the Wake Forest family as our new CFO from his position as vice president for finance and treasurer at Duke University. Hof will begin in early December. In this time of transition in finance, let me thank Brandon Gilliland, Paul Heinrichs, James Shore, and Ken Basch for their leadership.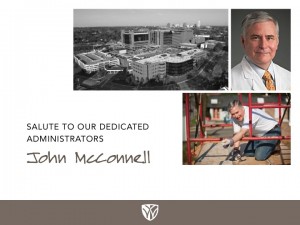 My last salute today is hardly the least: it is to John McConnell and his staff at the Wake Forest University Baptist Medical Center. The legal integration of medical school and hospital that transpired on July 1 of this year is a transition of historic proportions. For years Wake Forest and the North Carolina Baptist Hospital have discussed various forms of coordination and integration, which would allow an integrated organization. That has now happened. The Medical Center, under the authority of its board and Dr. McConnell's direction, now operates as a consolidated enterprise.
Academic medical centers across the nation, like Vanderbilt, Duke, or Pittsburgh, have prospered when their clinical operations—physician practice and hospital—can operate as a streamlined entity. Their joint clinical successes can then provide robust support to the equally important missions of teaching and research.
We are now poised to realize the fruits of this integration and I want to thank John and so many others from the Medical School and the Hospital, as well as their respective boards, who have worked diligently and creatively to envision the future in new and exciting ways.
A Challenge
Let me now turn to the Capital Campaign upon which we are embarking, which represents both a major opportunity and a challenge. Many, many of us will be involved in these efforts in coming years but none so directly as the team in our Advancement Office led by Mark Petersen. Let me take this moment to thank all of them for their considerable efforts to date and for all they will do to help Wake Forest scale the peaks that lie before us.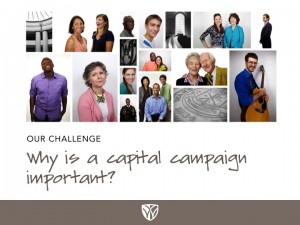 For the next two years, our Capital Campaign will be in what is known as the quiet phase where, having defined our priorities in the University's strategic plan, we will be looking for major commitments to build the foundation for the campaign, which will likely go public in the summer of 2012. Our goal will be to secure about 40% of our campaign in this quiet phase.
Why is the capital campaign so important? For two simple reasons:
The opportunity to expand the number of people who believe in Wake Forest and its distinctive kind of education. This campaign is not just about money; it is about better telling our story and expanding the circle of those who own what we are doing and want to make Wake Forest a model of a certain kind of education.
New financial resources are necessary for Wake Forest to sustain education that combines quality and personal attention. I could not be more confident of where Wake Forest is today and the central goals for the future. Yet I would be less than honest if I did not take note of our vulnerability. Our position as a top-twenty-five private university is not entirely assured. We navigated the most recent financial turbulence because of a previous decision to enlarge our student body by 500 students. And we increased tuition to comparable market levels. In short, we have already pulled most of the financial levers at our discretion.
Where we lag our peers is the amount of new philanthropic resources to buttress our core priorities: financial aid dollars for students, faculty endowments and department support, and major gifts for new buildings.
We recently celebrated the $10 million cash commitment by Mike and Mary Farrell for the construction of the new Schools of Business building, to be named Farrell Hall.
The Farrells have been engaged deeply by the mission of the university, the experience of their son here, and motivated by the leadership of Steve Reinemund and others. Mike Farrell is a self-made man who is honoring his father, an immigrant from Ireland, who never had a chance to go to college.
Their gift, and their broader commitment to Wake Forest, is a tremendous statement of faith in Wake Forest and in our vision for education.
Wake Forest's capital campaign will focus on three strategic goals of the University:
Our Students: The Endowment for Wake Forest Scholars
Our Faculty: The President's Trust for Teacher Scholars
Our Campus: Renewing our Facilities
Our Students: The Endowment for Wake Forest Scholars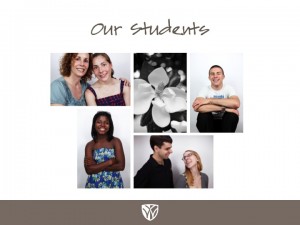 Students are the essential ingredient in the magic of this place. As we look to the future, we must find ways to help them afford Wake Forest. At the moment our financial aid endowment per student is among the lowest of any top-ranked university. The packages we offer students require more loan commitment than any of our peers. It is essential that we recommit ourselves to the preservation of opportunity for any qualified student.
At the center of our efforts to preserve opportunity will be the Endowment for Wake Forest Scholars, which will reduce debt burden for students who fall into the gap between ability to pay and the current availability of need-based financial aid. We must preserve the opportunity for students to graduate without crushing debt burdens.
The Campaign will also include scholarships for other students with special gifts and interests: for example, artists and performers, debaters, scientists and mathematicians, and student athletes.
Our Faculty: The President's Trust for Teacher Scholars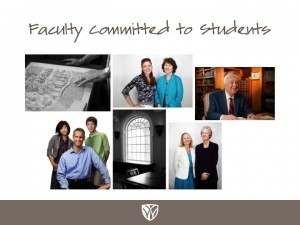 At Wake Forest, we believe that personal attention and interest is essential to the learning process. The magic of the teacher-scholar ideal is not simply that faculty devote somewhat more time to teaching than research. The magic of the engagement we seek is that faculty are actually interested in and committed to their students.
We know that the most powerful predictor of academic success at any level is when teachers believe that students can achieve. Why is this the case? Why does real personal interest often light the fire of insight and exploration? I think the answer is simple: students come to know they matter, and that is a game-changer when it comes to motivation.
I have been reading Provost Emeritus Ed Wilson's ('43) new book, Volume 5 in the History of Wake Forest from 1967-83. In his preface, he takes special note of one faculty member and assistant dean, Dr. Bob Dyer, who worked with Dr. Wilson for 24 years and in his mind captured the magic of Wake Forest tradition and values: "I watched students as they came to see him. Some came because they needed advice; he gave it freely and wisely and sometimes with startling directness and candor. Some came because they were in trouble; he helped them find a way out. Some came because they were lonely; he offered himself as a friend. Some came because they were [separated from their homes and communities]; he told them he loved them. Some came because they were poor; he gave them money. Some came because they had no place to live; he gave them a room in his house. No one who came remained outside the embrace of his arms. The rest of us in the office were, I think, kind and helpful people too. But Bob was more than kind and helpful. He gave others his home, his heart, himself." That is the heritage that we uphold.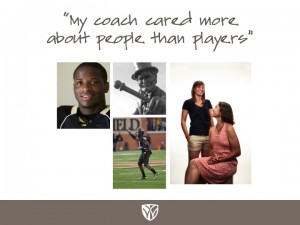 Let me also offer an illustration from athletics that manifests the same kind of engagement. The All-American corner back Alphonso Smith made this point strikingly when, as a senior, he paid tribute to one of his coaches. "It finally dawned on me," Alphonso said. "It is simple; Coach Hood clearly cared more about me and my teammates as people than as players. I made the right choice," he continued, "and I will always cherish the Black and Gold."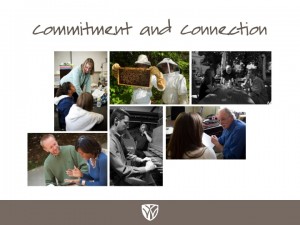 This is an ethic — an atmosphere — that is strikingly counter-cultural. It stands against the grain of the achievement culture in which we live. These are not academic professionals merely climbing the ladder of success. This atmosphere also challenges the ethic so evidently on display today among icons in sports and entertainment: "It's all about what makes me happy, what I find most fulfilling." We seek faculty and staff, administrators and coaches, who take joy in investing in the lives of students. It is that genuine, heartfelt commitment that makes for a magical connection.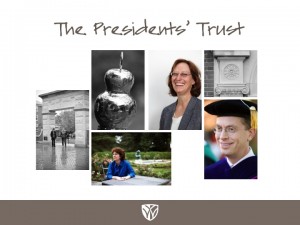 We intend to create the Presidents' Trust for the Teacher-Scholar Ideal, combining support from many quarters to recruit and retain the exceptional teacher-scholars who make this community distinctive.
The Presidents' Trust will support our academic leaders in providing endowed chairs and professorships to recruit and retain the most talented faculty. An endowed chair represents a magnificent gift to a university. An endowed chair also is a very special gift to students because it brings another magical presence into their lives without adding a cent to tuition. The endowment, not the regular University budget, supports the faculty member and it does so in perpetuity.
The President's Trust will also support faculty in other ways:
competitive grants that inspire our teacher scholars,
faculty renewal grants that create opportunity for teacher-scholars to concentrate on research and develop new courses and teaching techniques, and
centers and institutes that enable faculty members to work across disciplines to address the most pressing problems of our society.
Our Campus: Renewing our Facilities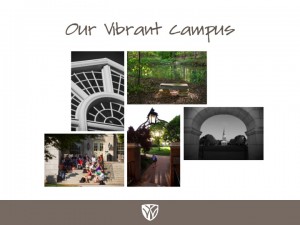 When I ask students why they came to Wake Forest rather than any number of other quality institutions, the most common answer is that they fell in love with our campus. Over the last fifty years in Winston-Salem, Wake Forest has crafted a campus with a very special sense of place. It resembles the powerful sense of community and grace of the old campus; and it draws graduates to return, not only for sporting events and class reunions, but also in highly symbolic, almost spiritual, ways. Alumni return to think through important decisions, to celebrate times of joy and commemoration, and to gain solace when tragedy strikes.
Architect Hugh Jacobsen has said that great places are built by communities one step at a time; and when you look at them it's like reading the hopes, aspirations, and pride of everyone who built them. We are blessed to have a campus that has this kind of history and magical connection.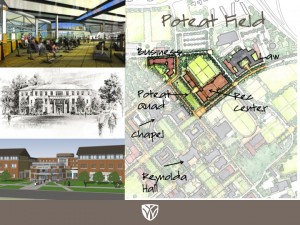 Our recently completed campus Master Plan has addressed the future of this magical place with the dignity and historic continuity it deserves. As we care for a campus community in which many of the facilities are about to turn sixty years old, we are committed to stewarding the rich resource of the Reynolda Campus.
We contemplate two zones of transformation. The Poteat Field will be at the center of a new quadrangle that will include Farrell Hall, the new home for the Schools of Business, and a new recreation center. Both of these projects are well along in design and have the highest university priority.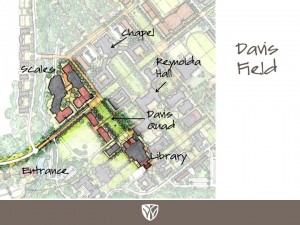 The Law School will also be afforded ample new space in the Worrell Center and plan an enhanced new entrance to the facility. This plan also will free Kirby Hall for needed departmental space in Wake Forest College.
We also plan to return the Davis Field road to its previous configuration and begin the Davis Quadrangle that was envisioned by our original architect. The highest priority in that area is to renew the Scales Fine Arts Center and then to build a new academic building on Davis Field.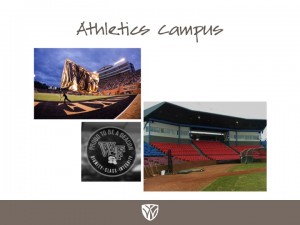 At the same time, we will continue to enhance our Athletics campus, which has been upgraded and dignified by the quality of Deacon Tower at BB&T Field. There is ongoing work to improve BB&T Field, to enhance our newly acquired baseball park, and to build a state-of-the-art tennis facility. Our long-term vision includes a vibrant College Town that animates the entire area around our football and baseball fields and the Joel Coliseum.
At its core, the campaign is about supporting the heart of Wake Forest. It is about injecting new strength into the 176 year-old foundations of our culture of opportunity, our teacher-scholar ideal, and our vibrant campus community.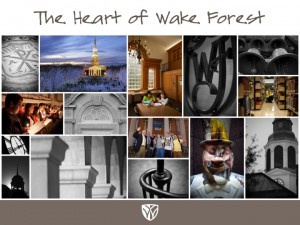 Wake Forest was a bold and novel effort in 1834 because it sought to provide an excellent education that welcomed the opportunity for students and faculty to talk together about values and a commitment to service as well. Renewing our oldest traditions is bold today because most universities are aggressively shedding those very responsibilities. We have the opportunity to secure Wake Forest's distinctive place in higher education for generations to come. Thank you for joining me in that noble effort.