Main Content
A letter to the Wake Forest community from President Nathan Hatch.

Dear Students, Faculty & Staff,
First of all, I want to welcome back students, faculty and staff to the 2011-2012 academic year at Wake Forest University. I also want to extend a warm welcome to the many new people who have joined our campus community since this past May. We're glad you're here.
Among the faces we encounter around campus are individuals from different backgrounds, cultures, professions and fields of study—each individual with a story to tell, and each one a part of the story of Wake Forest. Although I trust we will all have many chances to talk, reconnect and know each other even better in the days and months ahead, I want to remind and encourage everyone to take advantage of the opportunities we have before us now to share our stories.
By way of example, let me share a little about what I did this summer. The last week of July I had the wonderful opportunity to join our three adult children in Missoula, Montana for a three-day fly-fishing experience.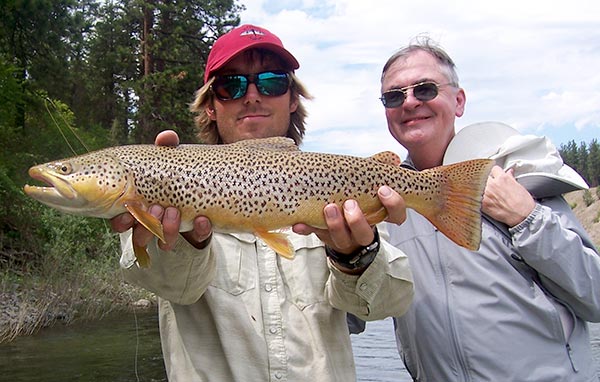 All of us were novices in the art of fly-fishing, but with patient guides and plentiful rivers, we learned something about the craft and caught some beautiful fish. We no doubt would have offended real anglers, like Norman Maclean's father who believed that "nobody who did not know how to fish would be allowed to disgrace a fish by catching him." But then again, we have to put ourselves into new challenges if we hope to learn more about each other and ourselves.
I have wanted to do this for a long time. With our busy schedules and far-flung lives, though, it was a challenge to get everyone together. Admittedly, putting the trip off another year would have been all too easy. "Maybe next time," we could have said. But we would inevitably look back and wonder about the opportunity we missed.
Instead, we seized this chance to embark on an experience that we will cherish always. We fished and floated about 10 miles a day for three days, each day on a different river: the Blackfoot, home river of Norman Maclean and A River Runs Through It; the Bitterroot, along which Lewis and Clark ventured; and the Clark Fork, a major tributary of the Columbia River.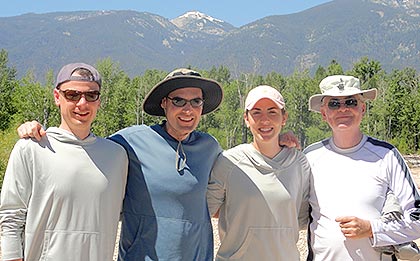 All four of us greatly enjoyed the experience, the challenge and the fun. But the greatest thing was having the rare opportunity of three full days with our children: Gregg who lives in Seattle, David who lives in Charlotte and Beth who lives outside Washington, DC. At night, over dinner in Missoula, my children decided to pose a number of thoughtful questions of their father — What lessons had I learned from my own father and grandfather? What one word of advice would I have to them about money? How and why did I undertake the profession I chose as historian and university administrator? We had hours of discussion, reminding me of the importance of being open to different perspectives.
Although we caught (and released) dozens of beautiful trout, and I have brought home more than a few fish stories, the entire trip reminded me of something truly remarkable and entirely vital regarding the story of Wake Forest and the time we share here together. The story of Wake Forest is one of recognizing the opportunity to enrich our lives and the lives of others, and having the courage to seize it. The story is being written every day by you—our students, our faculty and staff, our alumni—as we pursue experiences that will allow us to grow personally, academically and professionally.
As we begin another chapter in the story of Wake Forest, I want all of us to be mindful of the many opportunities we have in front of us to connect, engage, share and grow. These are potential experiences that challenge our understanding and inspire our curiosity. They allow us to feed our passion and to apply our knowledge in the service of humanity—the very essence of our motto, Pro Humanitate. They make our time at Wake Forest more complete, providing us with new story lines that we carry throughout our lives. These opportunities are what fill me with anticipation every autumn. In this letter, however, I can only scratch the surface.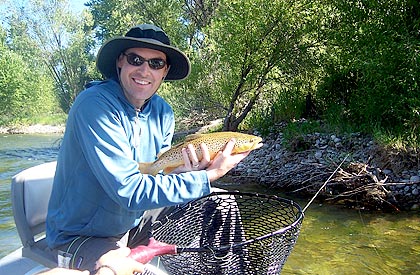 Following the fly-fishing trip, my wife, Julie, and I spent time with our children and grandchildren at the log cabin in Idaho that Julie's grandfather had built by hand back in the early part of the last century. Last year we found the original deed for the land and had it framed while we were there, connecting our history with our future.
Opportunities ahead
As much as we try to describe it, the Wake Forest story is, as you know, best experienced firsthand. During the 2011-2012 academic year, there is a wide array of experiences from which to choose. Together, let us take advantage of as many of them as we possibly can. I've included a brief, though by no means exhaustive, listing of events and areas of interest. However, clicking the links will reveal even more opportunities to enjoy.
Community destinations for engagement
• The Office of Personal and Career Development (OPCD), under Vice President for Career Development Andy Chan's direction, has been brought together in one central location to make it possible for students to interact and consult with faculty and staff on a more regular basis in an environment designed specifically for this purpose. I encourage you to check out the new spaces on the second floor of Reynolda Hall when you get a chance.
"Because of Wake Forest, I am a more well-rounded, stronger and better person."
— Jackie Swoyer ('12), Cincinnati, Ohio
• In fact, please drop by Reynolda Hall to see all of the other spaces that, in addition to the OPCD, have been redesigned to foster engagement among faculty, students, staff and administration.
• The construction of Farrell Hall is well under way. Completing this new home for the Schools of Business will have a positive ripple effect on much of campus life, freeing up much-needed space for vital academic programs and enhancing student and faculty interaction.
• Let's not forget The Barn, an on-campus venue (officially opening September 1) that was completely booked by students for the 2011-2012 academic year 20 minutes after we opened the sign-up period. We are thrilled to see The Barn already becoming a popular destination for our community to connect.
• I also want to point out that safety and security of our campus community is always at the top of my mind. Please re-familiarize yourself with Wake Alert, the University's primary source of information about emergency preparedness and response.
Student initiatives to expand the story
As you know, we encourage students at Wake Forest to actively participate in developing new initiatives in collaboration with faculty and administrators. For example:
• The Barn, which I mentioned earlier, was motivated by and developed through close collaboration with the students. Not so long ago at a student gathering in Wait Chapel, one student suggested the campus needed somewhere, anywhere—even a barn—as a venue. Needless to say, the idea stuck.
"I love Wake Forest because it gives me the opportunity to explore what I'm interested in."
— Margaret Gelburg ('13) Charlottesville, VA
• In only its second year, our Student Leadership Summit involves around 75 students and is a forum for discovering how we can work together creatively to address the biggest issues facing our campus.
• Chaplains Timothy Auman and Chris Towles, in the Office of the Chaplain, are hosting a series of events throughout the year under the national Interfaith and Community Service Campus Challenge. The events are designed for students and faculty to deepen their understanding of religious diversity.
• The Social Justice Action Committee is a group of students, faculty and administrators that meets regularly to plan cohesive justice programming for our community. In 2011-2012, the focus is on issues surrounding fair trade, with speakers, campus events, documentary screenings and opportunities for action. Click here to learn more and to access the event schedule.
• Interns play a critical role in our Office of Sustainability, which was created to support students, faculty and staff in making sustainable practices part of our community culture. Learn more about how we integrate green initiatives.
Faculty, academic and administrative progress to broaden our knowledge
Of course, the core of the Wake Forest story is the academic experience. Our mission is to provide a superior intellectual experience that challenges students' minds and an environment that encourages meaningful faculty-student interaction. The accessibility of our faculty is a unique quality that adds to the lifelong connection that occurs between the University and students. As we continue to evolve this experience, I am pleased to share a few recent developments.
• We welcomed many new faculty members and administrative staff over the summer and the preceding academic year. I recommend a visit to our InsideWFU site for the latest updates and stories. Or, click here for the Wake Forest College home page.
• As you know, our search for a new provost continues while our interim provost, Mark Welker, is leading his team admirably.
• The Counseling faculty is venturing into online programs, which is a first for Wake Forest. Their high quality masters in counseling program will be available to a larger audience online beginning in summer 2012. This fascinating program is part of our effort to explore hybrid teaching and learning approaches and their role in the University community.
• University Advancement is now under one roof in a newly designed space in the University Services Building. The move allows us to build on our recent success in fundraising, bringing much-needed support to initiatives throughout campus.
• I want to call particular attention to the extraordinary gift this summer by Porter B. Byrum (JD '42 and recipient of the 2011 Distinguished Alumni Award) of a large portion of the Park Road Shopping Center in Charlotte, NC to the University. As I said earlier this summer, our students are the beneficiaries of both Mr. Byrum's successful career and his principle-driven life. His gift to support scholarships will have a direct impact on students and faculty. We are extremely grateful and are pleased to name our new Welcome and Admissions Center the "Porter B. Byrum Welcome Center."
Experiences to enrich the mind and spirit
Throughout the year, our campus is alive with events that are intended not only to inform, but to inspire. My recommendation is to attend as many as possible. I find it helpful to bookmark the online University calendar, but I've also listed a few events and series here.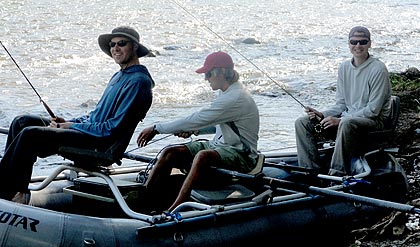 It was a memorable week. We had a wonderful time together, and the setting and weather were exquisite. Most importantly we pulled back from our normal fast-paced routines. We explored subjects never before discussed; and came to understand each other better. The time was a rare treat in a society in which many families, like ours, find themselves living in far-flung places.
• Keep an eye on the Voices of Our Time Series. These are enlightening, fascinating talks given by leaders from various professions, cultures and organizations. Mark Shriver, son of Sargent Shriver, the first director of the Peace Corps, should be especially interesting, given that the Peace Corps celebrates its 50th anniversary this year and that our University has a long-standing tradition of service.
• We will have a Service of Remembrance at 7 PM at Wait Chapel marking the 10th anniversary of 9/11. Along with the service, we will provide opportunities to reflect on the events of September 11, 2001, to discuss issues related to that day and to channel our energies into serving others. Look for more information on the Wake Forest home page in the coming weeks.
• Homecoming is a glorious tradition at Wake Forest. Beginning the week of October 10, look for special events, lectures and a great deal of fun. This is an excellent opportunity for students, faculty, staff and alumni to connect.
• I encourage the entire campus community to continue supporting our terrific student-athletes and to look for opportunities to get together around athletic events throughout the year, starting with this Thursday night when our football team visits Syracuse (8 PM, ESPN3.com).
• I also want to mention, briefly, the importance of the Fund for Wake Forest Scholars. Many in our campus community are familiar with the critical role this fund plays in our efforts to build vital scholarship programs and reduce or eliminate burdensome loans for qualified students, particularly those in the middle class. In many cases, it can mean the difference between our graduates addressing their debt or pursuing their passion. I encourage all students, faculty and staff to learn more about opportunities for giving.
Where does the story lead? You decide.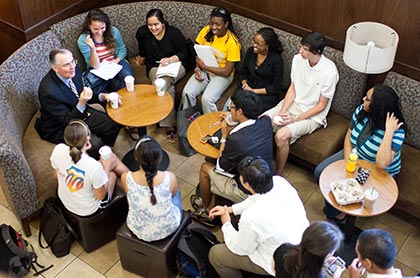 What I find most compelling about the Wake Forest story are the common threads of deep commitment to students and their formation, consistent linking of intellectual and moral virtues, and the building of a community that is human in scale. I believe in Wake Forest University.
– Nathan O. Hatch
The story of Wake Forest is deeply human. As students, faculty or staff members and administrators, our Wake Forest story continues, as it will continue throughout our lives. And I, for one, cannot wait to see how it develops.
Now it is your turn. I invite you to click here to begin writing. It's a website we created so all of us in the Wake Forest community can share our stories and pass along what we have gained through our experiences on this wonderful campus.
I admit that even though campus has been quite peaceful, it has been a little too quiet for my liking. I am always energized by the influx of students and the enthusiasm of the faculty and staff on campus in the fall.
Best wishes for the coming semester, and I look forward to seeing you around campus.


Nathan O. Hatch
President
Recent Posts
May 18, 2020

May 17, 2020

May 15, 2020