Main Content
State of the University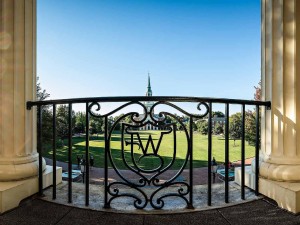 I stand here this afternoon with immense gratitude to you, the faculty, staff, students and community of Wake Forest University. What we share is a deep commitment to Wake Forest and its flourishing; and for that, I am grateful.
Theodore Roosevelt once said, "Far and away, the best prize that life has to offer is the chance to work hard at work worth doing." This community has much work worth doing; and you have worked hard at it, indeed.  I offer my profound thanks.
It is no secret that higher education is caught in a whirlwind of complicated issues. Questions abound about the financing of higher education—for schools and for students alike.  Is the model of a residential liberal arts education broken?  What is the appropriate role of technology?  Are graduates prepared for the world of work?  What is the role of a liberal arts education in a constrained economy? Wake Forest is not immune to these questions.
However, as we face the complexities of modern higher education, we will confront them in a way appropriate to our own distinct values and history.
To do that, we first must understand our core identity and culture. On several occasions, I have tried to tell the story of Wake Forest and extract its essential DNA, the principal themes of its story and how it is different than the biography of other colleges and universities. We cannot serve the world well if we are not authentic, true to ourselves.
At the same time, we can only speak as a leader to the larger culture if we understand its dynamics, its core concerns and hungers. We can only be truly relevant when our voice speaks to a world that is asking questions that we can answer. In short, can we be true to ourselves and, at the same time, be powerfully relevant in today's world and for today's students.
As we begin, I want to reflect for a few minutes on the story of Wake Forest and then how its identity, refracted in the contemporary moment, can speak powerfully to some fundamental issues in our culture.
Over the past eight years, we have worked together to apply the Wake Forest answer to some of these concerns. We have crafted a compelling strategic plan and a coherent campus master plan for our campus and facilities. We have been fiscally responsible and that stewardship has seen us through the most profound recession since the Depression. Our focus on student life led to a plan to renew residential life, and we see that realized on the north side of campus.
The story of Wake Forest is intriguing, not so much because it reflects an unblemished high ground: a tradition of unparalleled achievement, plentiful resources and famous graduates. The Wake Forest story lines involve much more struggle, determination and will to succeed, sometimes against considerable odds.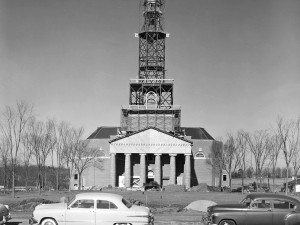 Wake Forest was, after all, the school of North Carolina Baptists, who, if you know the sociology of religion in America, know were never as wealthy or prominent as Episcopalians, Presbyterians or even Methodists – who had the same common origins, but were frankly just better organized. The Methodists had Bishops and built institutions; the Baptists were staunchly independent and localists who surrendered their authority and their resources to institutions with great reluctance.
In the generation of my father, who grew up in Charlotte, and went to college in the 1930s, people of influence in the South were much more likely to choose the University of the South, Washington and Lee, Davidson or the newly incarnated university that James Washington "Buck" Duke made of Trinity College in Durham, its neo-Gothic spires of the early 1930s expressing the new wealth and power of a tobacco and utilities fortune.
Wake Forest was a community that educated more quintessentially middle-class, educating sons and daughters of ministers, teachers, farmers, accountants and small-town lawyers. Wake Forest never had a halo of prestige, and it certainly never smacked of pretension.
But Wake Forest did its job well, extraordinarily well. It was a place of opportunity that opened vast new panoramas for first-generation students.  It was a place of serious and deeply moral purpose, a community of quality and of deep attention to the students it was privileged to educate. At its heart, faculty were committed to the formation of young people – to learn without compromise in the classroom; and beyond that, to learn not just how to make a living, but how to live. Quality, personal attention, robust community, a commitment to educating the whole person, and a call to live for purposes higher than mere self-advancement – it was a very special learning community. These are the durable strands in the tapestry of Wake Forest history.
As an institution of modest means, Wake Forest has always had a rich history of seizing opportunities. We joined the ACC when we did not have anything like the quality of facilities that other universities enjoyed. In the mid-1950s, Wake Forest had the audacity of moving to Winston-Salem, a city that offered new resources and opportunities.
In the 1980s, Wake Forest had the courage and foresight to sever ties with North Carolina Baptists – although a deep moral seriousness and welcoming of religious expression is a vital legacy. In the 1990s, Wake Forest emerged as a nationally ranked university as more people began to recognize the distinctives of what we now call a "collegiate university." More recently, we have taken other bold moves: to become test optional, to join graduate and undergraduate business schools, to combine medical school and hospital, to develop the Office of Personal and Career Development, to take on "wellbeing" in a substantive way.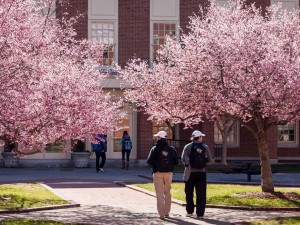 How, then can we describe the traditional distinctives of Wake Forest?
It was a place of excellence without pretention.
It was a place of opportunity and mobility.
It was a place of vital community where the individual is taken seriously. Ed Wilson notes that traditionally the faculty section of the yearbook, The Howler, was titled, "Our Friends, the Faculty."
It was a place of wholeness and integrity that calls people to a higher purpose – Pro Humanitate.
It was a tight linking of liberal arts education and professional education in law, medicine, business and divinity.
When I came to Wake Forest, the pressing question was how we could sustain the very best elements of our story – our deep commitment to a certain kind of education – but do so in a swiftly-changing, strongly innovative and highly competitive world.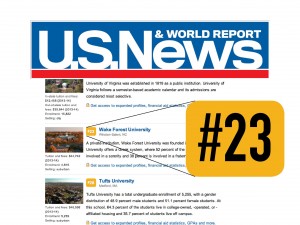 We were pleased to learn this fall that U.S. News & World Report's 2014 Best Colleges guide ranked Wake Forest 23rd among 281 national universities. This is the highest ranking the University has ever received. Interestingly enough, of the more than 600 institutions ever classified as "regional universities," only one has ever made the leap to be listed among the Top 25 national universities – Wake Forest. We are proud of the work we do and thrilled to be recognized for those efforts.
So, can we be distinct, preserving the deeply personal and morally resonant sense of place, but also prosper as a Top 25 national university? I think the answer to that question is a profound yes; and that is because there are elements deep within our heritage that speak powerfully to the age in which we live. As we assess the state of our university, let me explore five such signatures.
1. Wake Forest is still a place committed to opportunity and mobility.
First, Wake Forest is still a place committed to opportunity and mobility. We continue to invest in making this education affordable. From fiscal year 2008 to fiscal year 2012, our overall budget for financial aid increased from $34 million to about $52 million with significant commitments being made to Magnolia Scholars – first generation students – and to Wake Forest Scholars – middle-income students. In addition, the entire $40 million gift from Porter Byrum is targeted for undergraduate scholarship. This year there are 135 undergraduates who are Byrum scholars.
Just this fall, we received a historic gift for scholarship aid in the Divinity School. Ambassador Jeannette Hyde gave $2 million – the largest single contribution to the Divinity School – to make it possible for more young people to pursue their divinity education at Wake Forest.
Wake Will: The Campaign for Wake Forest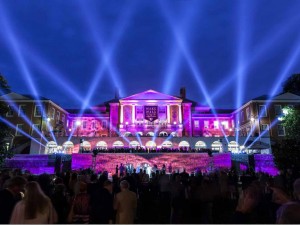 Our commitment to opportunity does not stop there. Last month, we publically announced Wake Will: The Campaign for Wake Forest.
Wake Forest University and Wake Forest Baptist Medical Center will significantly increase our impact on the region, the nation and the world by investing $1 billion over the next five years to strengthen and renew our ability to carry out our respective missions. With the help of alumni, parents and friends, the University on this campus will invest $600 million in our students, faculty and enhancements to campus life.
Wake Will represents the largest mobilization of support for our mission in the institution's 179-year history.  More importantly, Wake Will is our promise to prepare students to lead lives that matter.
We have raised more than $315 million towards our $600 million campaign goal. The impact of financial gifts and commitments is being felt by students attending Wake Forest with the help of scholarships, by faculty exploring new avenues of research, by strengthening our libraries, and by allowing the University to build certain new facilities, like Farrell Hall, and refurbish others.
I do love the motto "Wake Will" because it captures much about the energy and determination of this place—steady ambition for the place and our commitment to raise the necessary resources.
What I loved about the kick-off of the capital campaign was that we chose to honor a set of alumni, not the rich and famous, but those who were living lives that matter in substantial, if unnoticed ways.  That helps to answer the big so-what question: Why do we want to raise substantial resources for Wake Forest: so that we can educate a new generation of leaders whose lives will matter.
Verger Capital Management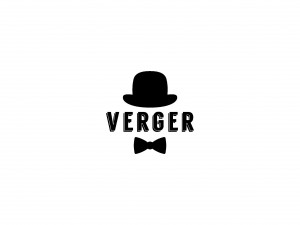 Another way we are exploring financial opportunity is through the creation of Verger Capital Management. As we assessed our investment management, the Board of Trustees decided to make Wake Forest's Office of Investment an independent firm. By doing this, we will be able to recruit greater talent in our investment office even as we reduce our own costs.  We can do this by providing our investment services to other organizations and institutions that share our philosophy. The new firm, Verger Capital Management, will continue to be led by Jim Dunn and with the same operating strategy to protect, perform and provide.
Strategic Resource Initiative
As you know, the Strategic Resource Initiative begin in the fall of 2012 to identify sources of new revenue and cost savings that could be applied to student financial aid, faculty and staff compensation and other strategic priorities. The target SRI figure of $5-10 million in recurring operating funds is the equivalent of receiving a new $125 million endowment. It is a strong first step toward more solid financial footing for the University.
The work of the Strategic Resource Initiative will continue throughout this year.  As an institution we must discipline ourselves to control costs, even as we strive to enhance quality and pursue our most strategic opportunities.
2. Wake Forest's model of teacher-scholar retains the power of personal connection in an age of expertise.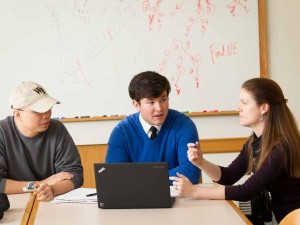 Second, Wake Forest's model of teacher-scholar retains the power of personal connection in an age of expertise. The coin of the realm in the modern university is research expertise. The better the university, the more faculty "stars" one hires. Students have the privilege of taking classes with these professors – not to be underestimated – but cannot expect much personal engagement.
At Wake Forest, we believe that personal attention and interest is essential to the learning process. The magic of the teacher-scholar ideal is not simply that faculty devotes somewhat more time to teaching than research. The magic of the engagement we seek is that faculty are actually interested in and committed to their students.
We know that the most powerful predictor of academic success at any level is when teachers believe that students can achieve. Why is this the case? Why does real personal interest often light the fire of insight and exploration? I think the answer is simple: students come to know they matter, and that is a game-changer when it comes to motivation.
At Wake Forest seek faculty who take joy in investing in the lives of students. It is that genuine, heartfelt commitment that makes for a magical connection.
Faculty Momentum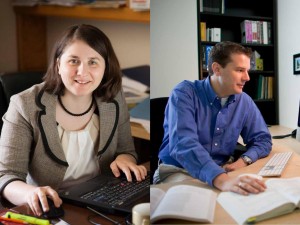 Our faculty are also providing the momentum that is moving our University forward. We are pushing the envelope on cutting-edge research and engagement. Your work is redefining how we think about everything across the disciplines. Let me take note of several examples:
Two WFU physicists – Oana Jurchescu and Timo Thonhauser – currently hold National Science Foundation Career awards. They are two of only four Career Award recipients in Wake Forest history. Oana is also our most recent recipient of the WFU Reid-Doyle Prize for Excellence in Teaching.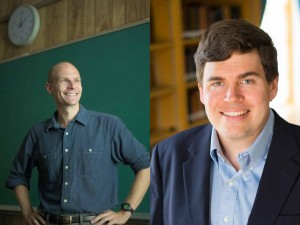 Three of our philosophy faculty – Adrian Bardon, Christian Miller and Julian Young – published four highly-regarded books between them. These are among more than five-dozen books published so far this year by Wake Forest faculty.
On the innovative-teaching front, Jack Wilkerson, senior associate dean and professor of accountancy, is co-leading a national task force to develop new curricular models in the file of accounting.  This task force was organized by the American Institute of CPAs and the American Accounting Association.
Professor of Biology Miles Silman and collaborators measured plant and timberline migration in the Andes, providing insight into how global warming affects species diversity. This work was published in the prestigious journal Science.
This year, Ellen Kirkman was elected a Fellow of the American Mathematical Society. Two other similarly newly-named fellows are Stan Thomas from the Computer Science Department, named a CSAB Fellow for contributions to the computing profession and education; and Bob Plemmons from the Mathematics Department, named Fellow of the Society for Industrial and Applied Mathematics.
From our Art Department, Page Laughlin mounted a major exhibition earlier this year at the North Carolina Museum of Art, and David Lubin is spending the year at the National Gallery of Art in Washington, DC, as the William C Seitz Senior Fellow for 2013-14.
Law Professor John Knox was appointed by the United Nations Human Rights Council to a three-year mandate as its first-ever Independent expert on the issue of human rights obligations relating to a safe, clean, healthy and sustainable environment.
Steve Messier, Shannon Mihalko and Gary Miller of the Health and Exercise Science Department showed that the combination of diet and exercise reduced knee pain in arthritis more than either treatment alone. This work was published in the flagship medical Journal of the American Medical Association.
Pat Dickson, of the Business School, was elected President of the United States Association of Small Business and Entrepreneurship (USASBE).
Sean Hannah, the Tylee Wilson Chair in Business Ethics, who directs the Business School's Character and Leadership initiatives, just published a path-breaking study on the "psychology" and "neurology" of leadership.
Presidential Chairs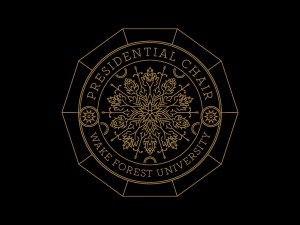 Our new Presidential Chair program seeks to reward, retain and recruit those teacher-scholars who most exactly embody the ideals that Wake Forest has for faculty: brilliant and committed scholars who have a profound ability and commitment to teach and mentor students.
Last month, we added two new presidential chairs – the Burchfield Presidential Chair in Political Economy and the Rubin Chair of Jewish and Israeli Studies. These chairs represent $3 million given by alumni who want to continue the tradition of excellence in teaching at Wake Forest. These two chairs followed the naming of our first presidential chair recipient, Michele Gillespie.
Student Appreciation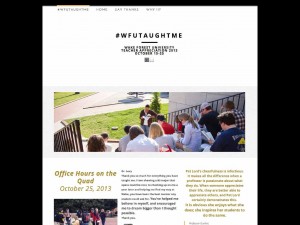 Perhaps more valuable than the recognition from peers, media and donors is the gratitude from our students. To celebrate Wake Forest's ranking 11th in U.S. News & World Report for commitment to undergraduate teaching, our students chose to spend 11 days this fall thanking our faculty.
Part of the appreciation was posting comments on social media. Here is what our students said about you – our faculty.
"You made me love literature."
"Your enthusiasm is unparalleled."
"Thank you for being an unorthodox provoker of thought."
"You encouraged me to dream bigger than I thought possible."
"You told me 'don't quit; never give up.'"
"You genuinely care about your students."
"Thank you for being accessible."
"You renewed my confidence in myself."
"I am lucky to have you as a professor, adviser and friend."
"It's obvious you enjoy what you do and that inspires your students."
"You taught me that integrity matters."
"Wake Forest professors change lives."
There is no greater reward for an educator than to have students reflect on how you have changed their lives. It is clear that at Wake Forest, our students learn more than exams, reports and papers could ever evaluate. Congratulations and thank you, Wake Forest faculty, for a job well done.
Wake Forest remains committed to educating the whole person in an age when college is seen increasingly for its economic benefits.
Third, Wake Forest remains committed to educating the whole person in an age when college is seen increasingly for its economic benefits.
W.E. B. DuBois once noted: "The true college will ever have one goal – not to earn meat, but to know the end and aim of that life which meat nourishes." Education in America began as an ideal: to nurture the intellect and character of the next generation, to call young people to lives of reflection and virtue, to form leaders of character and purpose who knew how to think and what to choose.
Today, such values seem rather quaint amidst the constrained economy in which we live, and the drumbeat of whether a college education has economic utility. The most pressing question today seems to be how much does college cost in relation to the salary that a college graduate can command. Higher education is just one more player in a dominant economic market.
Wake Forest's Network of Academic Counseling and Mentoring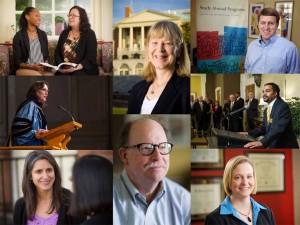 I often tell undergraduate students interested in Wake Forest that they will find on this campus the a network of academic counseling and mentoring second to none.  Scores of faculty and administrators are responsible for this. I do know that the following spend much of their time in energy on behalf of students, making sure that the gifted are pursuing the most fruitful paths and that the struggling are not falling between the cracks:  Anne Boyle and Christy Buchanan from the Dean's office, Rebecca Alexander, the director of URECA, Steve Duke, the Executive Director of Global Faculty/Student Development, Catherine Ross, Director of the Teaching and Learning Center, Nate French, Director of the Magnolia Scholars Program, Tom Phillips, Director of the Wake Forest Scholars Program, and Allison McWilliams, head of the Mentoring Resource Center.    Together, these colleagues and their staffs provide a wonderful network of support for the holistic education of our students. In this vein, let me also thank two other faculty colleagues, Ron Noftle in Chemistry and Harry Titus in Art History, who were co-winners of a new award by the College for Excellence in Research Mentorship.
Office of Personal and Career Development
In similar fashion, the Office of Personal and Career Development has taken a leadership role nationally in empowering students to "know themselves" and to think through how what they learn in college can prepare them for life after graduation.
Interdisciplinary Humanities Pathway to Medicine Program
We are also connecting our undergraduate school with the professions. In our new Interdisciplinary Humanities Pathway to Medicine Program, up to five undergraduates majoring in the humanities or fine arts will be guaranteed admission to Wake Forest Medical School.  We hope this initiative will help widen the lens through which future doctors examine and treat their patients.
Semester Online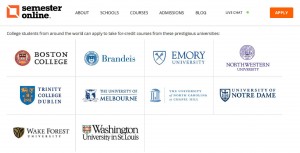 Last year, I reported to you that Wake Forest would investigate and explore how to use technology and online tools to enhance our educational experience. In September, we joined Semester Online, the first-of-its-kind program to offer for-credit undergraduate courses through a consortium of top-tier universities. Semester Online offers rigorous, small, online, for-credit courses in real time to qualified college students from anywhere in the world. Wake Forest joins other quality institutions in this effort: Boston College, Brandeis University, Emory University, Northwestern University, the University of North Carolina at Chapel Hill, University of Notre Dame and Washington University in St. Louis.
In Spring 2014, we will offer our first Semester Online course, Introduction to Bioethics, taught by professor of biology Carole Brown.
Wellbeing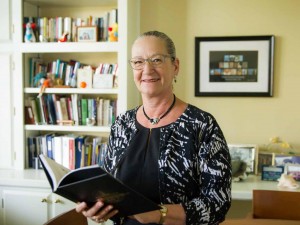 As we educate the whole person, one of the upcoming initiatives that we are pursuing is wellness and wellbeing. Wellbeing is not simply the absence of disease, illness and stress, but the presence of habits that are healthy and sustainable. Our hope is to launch a set of coordinated initiatives that will make wellbeing a hallmark for the entire community.
This is an appropriate occasion to welcome, again, Dr. Penny Rue as vice president of campus life. She is known for her creative leadership in strengthening campus communities.  Her proven leadership in the area of wellness dovetails perfectly with our focus on student wellbeing.   She is currently involved in the search for a director of our Wellbeing who animate our efforts on this campus.
Wake Forest remains committed to the power of a residential college experience – developing the art of conversation in a world increasingly impersonal and privatized.
Fourth, Wake Forest remains committed to the power of a residential college experience – developing the art of conversation in a world increasingly impersonal and privatized.
We live in a marvelous, almost magical age of connection. Yet our devices leave young people struggling to find a place for deep conversation and for the ability to focus and to concentrate. How do we help students develop the art of conversation on which genuine friendship and community depend? For a place like Wake Forest, conversation is at the heart of what we do because it combines ideas and human interaction, the intellectual and the personal. That is why we are deeply committed to a face-to-face residential community. That is why we are building new residence halls so that more students can live together on campus.
Farrell Hall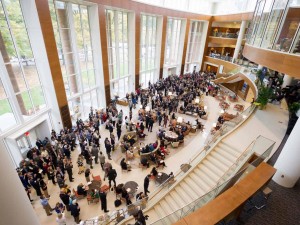 As the doors of Farrell Hall opened to our students this summer, we celebrated a building that offers new potential at Wake Forest. Farrell Hall is a visionary space that physically unifies the undergraduate and graduate business programs on our campus. But it offers far more than locating two important programs under the same roof.
It is a building that was designed specifically to enhance faculty-student interaction; and that kind of energy and engagement is evident to any anyone walking through its living room today.  Farrell Hall also includes the new University Recruiting Center, a joint effort of the Business School and the Office of Personal and Career Development.   This facility is an asset for students of the College as well as the Business school.  In particular, let me thank Mercy Eyadiel, the Executive Director of Employee Relations, who has greatly enhanced our relationship with businesses and organizations that seek the talent of our students.
New Residence Halls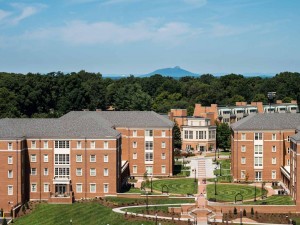 Our two new residence halls – Dogwood and Magnolia – have made it possible to house more students on campus. The goal of the buildings was to encourage peer interaction and intentional community. These two halls, which were designed with the help of students, include communal kitchens and media rooms, private and public study spaces, large recreation rooms and touchscreens that monitored the amount of water and electricity used in the buildings.
Zick's
This summer, we constructed Zick's, a new space designed specifically for our students to connect with one another. Named for Ken Zick, our longtime vice president for student life who retired in June, this place on campus is intended for students to gather together, share a meal and relax. Zick's was intentionally constructed with only a few power outlets, making it a true place to unplug.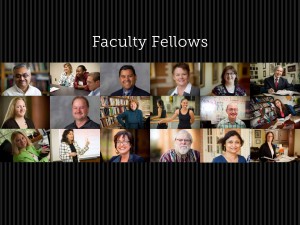 Faculty Fellows
In building up our community, 19 faculty members joined our new Faculty Fellows program. Faculty members are assigned a residence hall and will work closely with the residents throughout the year, creating programs, hosting dinners and spending time in the building. This program gives faculty the opportunity to engage with students outside the classroom and provides a model for students to talk with and get to know faculty one-on-one.
Wake Forest believes in forming leaders of civility in an increasingly polarized world.
Lastly, Wake Forest believes in forming leaders of civility in an increasingly polarized world.
We live in a culture that makes it harder, I think, to live out a spirit of the common good. Wake Forest is a place where students become grounded, holistic and measured in their thinking. They become capable of understanding complexity and negotiating conflicting ways of thought.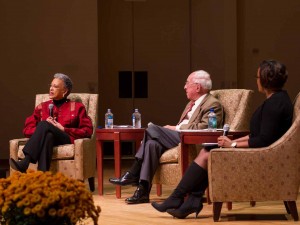 A few weeks ago, we were fortunate to celebrate civility on our campus. Dr. Maya Angelou, Dr. Ed Wilson and Dr. Johnnetta Cole spoke about the importance of dignity and respect in fostering a civil, inclusive community.
It is conversations like these that help build a vibrant academic community where people of different backgrounds and convictions can live and learn together. A university is a place where academic freedom and freedom of expression are fundamental, a place that encourages community members to give voice to their beliefs, whether progressive or conservative, radical or traditional, secular or religious. We need to welcome real diversity of thought – even to those whose opinions we do not understand or appreciate. We can give our students the ability to disagree with courtesy and friendship. That is a balm that our nation and world desperately needs.
Let me conclude by asking of myself a question in the vain of a devil's advocate. What is so special about Wake Forest? Don't all colleges and universities open doors of opportunity and mobility, blend research and teaching, have an interest in student wellbeing, call students to live for higher purpose. What's the big deal?
Edmund S. Morgan, one of two or three most brilliant American historians of the 20th century, once made a simple but very profound point. He said change in thought, "even so radical a change as the Reformation [or the Enlightenment], has usually been a matter of emphasis, of giving certain ideas a greater weight than was previously accorded them or of carrying one idea to its logical conclusion at the expense of another . . . an intellectual revolution may be . . . justified and rationalized simply by a rearrangement of old ideas."[1]
Morgan's point is that something as profound as an intellectual revolution can occur when the same set of ideas is rearranged or when certain parts of the tapestry are emphasized when others are not.
I am convinced that the patterns of life at Wake Forest, the tapestry that we inherit and continue to weave, is worthy of note in in its distinct patterns, colors and texture. It is a tapestry worthy of our heritage, worthy of your ongoing investment, worthy of addressing major dilemmas of our time.
The story of Wake Forest has powerful things to say to the culture of the 21st century and to its students—in opening doors of opportunity, in linking expertise and personal attention, in educating the whole person, in building a premier face-to-face residential community, and in forming leaders of civility and purpose.
All of you—faculty, staff, and administration—have the privilege, and the challenge, of being involved in that rich and complex process of formation: so that these students will, in fact, emerge as a generation whose lives will matter.  Thank you, from the bottom of my heart, for all of your efforts to that end.
---
[1] "Introduction," Puritan Political Ideas (Indianapolis: Bobbs-Merrill, 1965), xiii-xiv.
Recent Posts
October 30, 2020

October 30, 2020

October 22, 2020