Main Content
State of the University
By Nathan O. Hatch
November 11, 2014
Good afternoon, colleagues and friends! Thank you Gale and the faculty senate for the invitation to speak with you today. I hope our time together is productive and informative. To reflect on the year that has past is worthwhile indeed. From that vantage point, we can anticipate and see more clearly what challenges are ahead.
As we begin, I want to congratulate our Women's Field Hockey Team for winning the ACC Field Hockey championship on Sunday – their fourth such title. Congratulations to coach Jen Averill, to her staff and to the whole team, including Anna Kozniuk, who was named the ACC Tournament "Most Valuable Player." Anna and Georgia Holland earned ACC Player of the Year honors, and Jen Averill was named ACC Coach of the Year for the seventh time.
We live in a time of great turbulence in American higher education. There are so many currents and cross currents, so many trends and counter trends, so many conflicting signs and signals.
On the one hand, there is unprecedented questioning and concern about the very enterprise. This past summer, The Economist came out with a cover story titled, "Higher Education – Creative Destruction: A cost crisis, changing labour markets and new technology will turn an old institution on its head."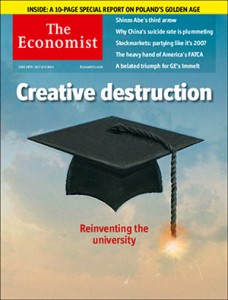 The article ponders where massive change will confront the American college in the same way that the Internet has deconstructed traditional journalism. Most surprising, the article suggests this kind of earthquake is "welcomed," pointing to the loss of confidence that many have come to have in higher education: colleges and universities are no longer on some lofty pedal, the most trusted of American institutions. Instead, we are seen by some as excessively expensive, hidebound and self-protective.
The Atlantic followed suit.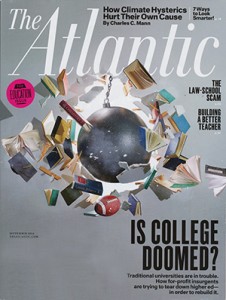 Their cover story was titled, "Is College Doomed: Traditional universities are in trouble. How for-profit universities are trying to tear down higher ed – in order to rebuild it." The Atlantic article focuses on the for-profit experiment at Minerva, which seeks to build a new kind of learning community based on an advanced digital platform that will bring students from around the world into small and interactive classes and a surprisingly traditional curriculum – at roughly half the cost of an American private university.
By contrast, a place like Wake Forest has never seemed in a stronger position. We have never been more attractive for students. We know the value of personal attention and mentoring, the crucial nature of which Tom Friedman noted in a recent column, "It Takes a Mentor."[1] We know the value of striving to do things right and saying we are about character as well as intellectual development. We know the liberating value of education, allowing people who start in one place and have the opportunity – through education – to end up at another. The niche or the higher education landscape that we inhabit – what we call a "collegiate university" – seems to be succeeding remarkably well.
So we find ourselves often whipsawed between challenges – financial and otherwise – and tremendous opportunities. My own view is that, in such a complicated environment, we must approach our work with a dual mindset: we must be both radically traditional and radically innovative.
According to a recent report distributed by the Association of Governing Boards, all colleges and universities must address at least seven key challenges. You can see them listed, and I would like to use them as an outline to note some of the ways we are addressing our contemporary challenges.
Market and Mission
Revenue Model
Student Aid
Educational Delivery
Academic Workforce
Student Learning
Student Success
Market and Mission
How does a university sustain a compelling mission in a swiftly moving culture?
For decades, Wake Forest was committed to educating the youth in North Carolina. Its regional status was strong, and it was known as a classic liberal arts college. But opportunities arose, creativity blossomed, and we have found ourselves combining the best of a small liberal arts education with the incredible advantages of a research institution. We are a collegiate university known on the national stage. We've created a space in the market that holds fast to our tradition while forging an innovative option in higher education.
Collegiate University
Our commitment to the residential experience at our collegiate university remains strong. The evidence is clear: there is a powerful and growing attraction to the Wake Forest experience. Our applicant pool grows every year. For the incoming class, we received more than 11,000 applications for a class of 1,250 students. In major markets up and down the East Coast, we have emerged as one of the most desirable schools. Last year, our early decision applications were up about 40 percent, and this year they are up again.
We have also seen the quality and the diversity of our students continue to rise. Because we chose to implement our test-optional admissions policy, and we made this education more accessible to our students through increased financial aid, we are educating incredibly bright students from a broader range of backgrounds.
In many ways, our educational standing has never been stronger. There are very few institutions that offer the quality, personal attention and expansive opportunities that we do.
Pro Humanitate Institute
Part of what distinguishes us is our commitment to our motto. In 1908, we put a name to the purpose behind our education. We called it Pro Humanitate. In June, we created the Pro Humanitate Institute. It is a central place to organize and share ideas that will help inform how the University interacts with the world.
The Pro Humanitate Institute is consolidating our various community engagement efforts. It includes the work of the former Institute for Public Engagement that sponsored teaching and research opportunities with local outreach components. It also helps students the same way the former Office of Service and Social Action did; it facilitates opportunities for students to connect with the community, serve others and explore social justice issues.
The formation of this institute allows deeper collaboration and connection with members of Wake Forest, Winston-Salem and the greater world.
MBA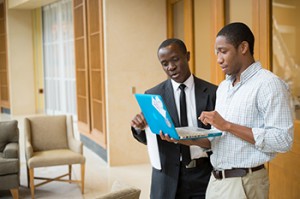 In the interest of meeting the needs of our students, we also made a change to our MBA program.We are invested in MBA education – a traditional offering at Wake Forest. Current data shows that more students prefer flexibly delivered programs that allow them to continue working, enrolling at twice the rate as traditional daytime MBA programs. So, we applied innovative thinking and shifted toward exclusively offering the MBA in the evenings, on weekends and with hybrid delivery. It's market-driven and student-centric; and it is a bold move – taking our future into our own hands rather than being controlled by external forces.
Revenue Model
How do we control costs and diversify revenue streams?
The report issued by the Association of Governing Boards listed the top concern for colleges and universities was whether our revenue model could stand the test of time. And, rightfully so.
At a private university like Wake Forest, we have a very expensive financial model and very little room to raise tuition. Our current tuition is more than $44,000 and total cost of attendance approaches $60,000 annually. We must become more innovative in delivering quality education while controlling costs.
Sustaining Wake Forest
A group of Wake Forest trustees and administrators have been looking at the University's tuition-dependent financial model with a critical eye. Wake Forest has far less endowment per student than universities like Duke and Emory – with which we compete for students – and even less than colleges which we compete like Davidson, Washington and Lee, Furman and Richmond.
One strong conclusion coming out of these discussions is that we must be far more aggressive about developing appropriate opportunities to generate income for our core mission. One example concerns what happens on campus in the summer, where, we estimate that our residence halls and dining are used at about 20 percent of capacity. Better utilization of campus resources in the summer seems a very logical move – particularly at a time when we have great need to refurbish residence halls and other facilities that are now more than 50 years old.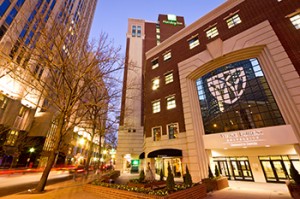 Another example is the sphere of continuing and professional education. Many of our peers – particularly those in larger cities – have robust programs in professional studies for young working adults, certificates and degree programs in a wide variety of fields.We believe that our great opportunity is in Charlotte, where Wake Forest enjoys a wonderful new downtown center and where our Business School already is having great success with MBA programs. Under the leadership of Executive Director Todd Johnson, a wide variety of programs are being developed – one of them being a much needed management program for leaders of not-for-profit organizations. Our goal is to build quality programs in new areas that can also enhance our overall reputation and generate financial support to buttress core missions on this campus.
Wake Will Campaign
Every financial projection for Wake Forest underscores the importance of philanthropy.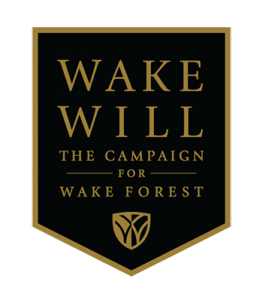 We have just completed the first year of the public phase of Wake Will: The Campaign for Wake Forest. As of the end of October, we have raised $418 million toward our $600 million goal. We're 70 percent of the way there.
Of the commitments we have received:
$47.9 million is unrestricted money – most of that in annual giving to support scholarships and underpin the work of schools and departments
$103.5 million is for properties and buildings. This includes Farrell Hall, Worrell Professional Center, Kirby Hall, Davis Chapel, the Z. Smith Reynolds Library, Haddock Golf House, McCreary Field House, the Sutton Center and renovations to Reynolds Gym. While we do not have explicit campaign gifts for the project, a new home for the Department of Health and Exercise Science will begin soon, immediately adjacent to the Worrell Center.
$147.2 million has been added to the endowment – building scholarships, faculty chairs and other program support
78 percent of the money raised for the endowment went to student aid. That's nearly $115 million in creative opportunity for students to attend Wake Forest.
$418 million is hard to comprehend. What does it look like in action? What does it mean for our students and faculty?
 It means that we can create scholarships for students from middle-income families. Anna Grace Tribble, a senior, was awarded aid to help defray her loan debt. She said it was "the greatest gift given to her and her family."
It means that because of a generous gift to the Magnolia Scholars program, we are able to welcome and guide more first-generation students through their college experience.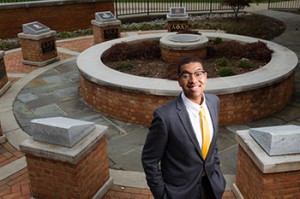 Aaron Colston, from the Class of 2014, said that because of the support, he has "a whole different concept of what opportunity looks like."
It means that Sarah Millsaps, a junior, could travel to Nepal this summer and conduct ethnographic research alongside anthropology professor Steve Folmar. Sarah said that the trip made her think about how she might tie together her interest in people and cultures with her love of writing.
It means that we have new programs to benefit our students – like our focus on wellbeing that includes new director Malika Roman Isler.
Tomorrow evening, we will take the Wake Will campaign to Philadelphia, the 10th city in which we are taking this campaign to alumni, parents and friends. Later this fall, we will be in Chicago and Tampa, and later next year, we're headed to Dallas, California and other Florida cities. We hope our message is strong and clear: that this is a place on the move and worthy of support.
Student Aid
How do we remain affordable – a place of opportunity?
Another concern across higher education is student aid. And at Wake Forest, we continue to uphold this place as one of opportunity.
A few weeks ago, Porter Byrum came to campus because he wanted to meet and talk with the students that his scholarships support. Porter has done more than anyone else in Wake Forest history to support student scholarships – providing almost $50 million. There are now 185 Byrum scholars, many of whom will have greatly reduced debt burdens. During their time together, the 94-year-old benefactor told the Byrum Scholars, "An education is something that can't be taken away from you. It is something you can enjoy every day of your life."
I am delighted that Wake Will is addressing scholarship needs for both middle-income students and first generation students.
Educational Delivery
How are students learning differently given changing technology? And how do we best employ new technologies?
Wake Forest is faced with the challenge of delivering an exceptional education in an age of rapidly changing technology. Students are coming to us with a much greater proficiency in technology and expect it integrated in their learning. Our great challenge is how can technology be leveraged to enhance learning – and deep connection between people – rather than as a substitute for substantive conversation. How can we use the latest technology to enhance our distinctives?
Kathryn Webster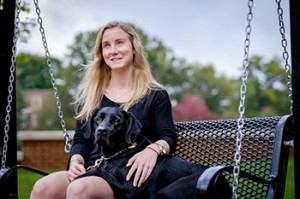 One of the best examples of combining the tradition of our teacher-student engagement with technological innovation occurred last fall.When one of our students wanted to take Statistical Modeling, no one saw it as a problem. The only catch was that Kathryn Webster, who wants to pursue a dual degree in math and business, is blind, and Braille does not adequately express complex math.
So, Rob Erhardt, assistant professor of math who taught Kathryn's class, and Michael Shuman, associate director of the Learning Assistance Center, spent hours researching methods for teaching statistics to Kathryn. They consulted work by a blind New Zealand professor. They even went so far as to learn Braille.
They met weekly to come up with a way for Kathryn to follow her passion to pursue math. They dealt with their challenges with persistence, creativity and collaboration. And, in the end, they devised a suite of technologies to help her do her homework, study for tests and take exams.
Google Glass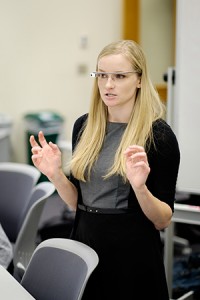 An up-and-coming technology is Google Glass – a type of wearable computer headset, similar to a pair of glasses. In her Accessing Information in the 21st Century class, Instruction Librarian Amanda Foster is having her students explore the use of Google Glass. Together, they are discovering how this technology is a catalyst to research, discuss, explore and reflect on information-related themes, such as privacy, social responsibility and the future implications of technologies in medicine, business, education and gaming.
Wearable Technology
We're also seeing innovative technology being used on the basketball court. Coach Danny Manning is utilizing wearable technology to monitor the condition of his players. It tracks player performance and safety, helping to improve training techniques and on-court play. We're using science to help create a competitive and safe environment for our student-athletes.
Information Technology
We have a promising future in this area of information technology. Our new Associate Vice President of Information Technology and Chief Information Officer Mur Muchane will join Wake Forest in January. Mur comes to us from Davidson College where he was Chief Information Officer. Mur has developed the ability to listen to the needs of the college community, foster open dialogue and enhance the educational experience of students and faculty. I look forward to how he can help all of us support the University's mission in teaching, learning and research.
Academic Workforce
How do we nurture and sustain outstanding faculty?
Each day, so many on this campus come to invest in our students. We are so fortunate that so many faculty use their creativity to enhance learning.
Innovation in Teaching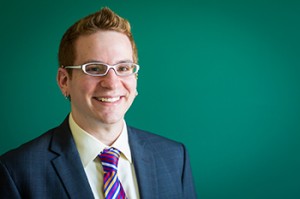 I think about what Ted Gellar-Goad, assistant professor of classical languages, has done recently.He took a traditional topic in higher education – Latin – and infused his teaching methods with creativity. He reinvented a Latin grammar and composition course using a role-playing game. His students became fluent in their understanding and appreciation for the classics in a way that was relevant and fun. The Teaching and Learning Center honored Ted with their Innovative Teaching Award to recognize his efforts.
And, in his first semester back in the classroom as a full-time professor after serving as chief information officer, Rick Matthews in the Physics Department is experimenting with "flipping the classroom." His lectures are delivered on video and class time is reserved for group work and tutoring help. His lab space has been transformed into a more flexible classroom environment. Based on objective measures and his personal assessment, Rick has seen these two changes create a better learning environment than ever before.
Faculty Accolades
We talk about preparing our graduates to make a difference in their communities. Perhaps the best inspiration is so many on this campus who are influencing students' lives while contributing to the betterment of our community and the world.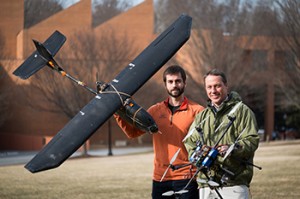 For instance, professor of biology Miles Silman is working with graduate student Max Messinger to use aerial imaging collected by remote-controlled aircraft to assess the damage caused by the coal ash spill earlier this year. They recently released their findings to the EPA and Duke Energy.
Richard Williams, a professor of physics, has received funding from the National Science Foundation and the Department of Homeland Security to support his work that will help decrease the cost of detecting and preventing illicit shipment of nuclear materials.
Assistant Professor of Anthropology Karin Friederic received support from the Feminist Review Trust for her project to combat intimate-partner violence in Ecuador through economic empowerment and social support.
School of Law and School of Medicine Public Health Sciences Professor Mark Hall was elected to the Institute of Medicine for his outstanding contributions to health care law, public policy and ethics.
Computer Science Professor Jennifer Burg received a National Science Foundation award for her work, Collaborative Research: Computing in the Arts – A Community Building Initiative.
For the second year in a row, Wake Forest is home to a National Science Foundation CAREER award recipient. Chemist Amanda Jones is the fifth Wake Forest recipient of the award given to faculty who exceptionally integrate education and research.
The American Institute of CPAs has awarded the Journal of Accountancy's Lawler Award to Accountancy Professors Lee Knight and Ray Knight, acknowledging the best article published in the journal this year.
These awards are only illustrative of the gifted faculty who enrich this campus and inspire our students.
Leadership
As you know, we have experienced some changes in leadership in the past year.
Charles Iacovou has taken the reins as Dean the School of Business.
Rebecca Thomas and Randy Rogan are sharing the responsibility of the Dean of the College by serving as co-interim deans.
Suzanne Reynolds is providing leadership as interim Dean of the Law School.
Lynn Sutton was appointed Vice Provost, while still serving as Dean of the ZSR Library.
Adam Goldstein was named Dean of Students.
We are currently in the in the process of searching for a new Dean of the College, Dean of the School of Law and Dean of the Library. These searches – in various stages – are engaging multiple constituencies across campus. I trust that we will find the individual who best fits Wake Forest, and in the meantime, I have every confidence in those filling the interim roles.
Innovation Quarter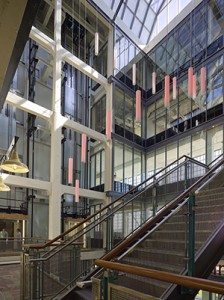 While we are addressing academic matters, let me also mention a most interesting opportunity that has recently arisen.As you know, the Innovation Quarter in downtown Winston Salem has become a vibrant hub for innovation in biomedical science and information technology. By the end of this year, more than 50 technology companies and 26 academic entities will be resident in Innovation Quarter with 3,000 people working and about 1,200 students. The Wake Forest School of Medicine will move to the Quarter in 2016 when another major tobacco factory is renovated and another decaying factory becomes gleaming, modern laboratories, offices and classrooms.
That same building also has adjacent space, offering the possibility of expanded science laboratories for use by faculty and students from the Reynolda campus. The tax credits available for this renovation make the space much more affordable than a new building on this campus; and the close proximity to so many medical school faculty – including the Department of Biomedical Engineering and the Department of Public Health Science – make this opportunity especially intriguing. No decisions have been made to move forward, but the administration and faculty will be exploring these matters in coming months.
Student Learning
How do we best ensure that students are mastering essential competencies and skills?
A Wake Forest education was never intended to be confined by the four walls of a classroom. We are a community in which an inspiring learning process takes place. Our commitment as an institution is to educate the whole person. And so, we've taken some integral steps to do just that.
Wellbeing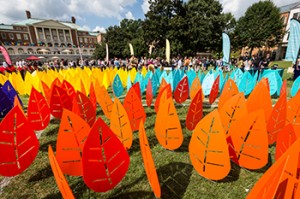 This fall, we launched our new University-wide initiative, Thrive. Thrive is our invitation to the community to think about wellbeing in a new way. We all know that wellbeing is about much more than physical health. This multi-dimensional balancing act is just as important for faculty and staff as it is for our students.
With Thrive, we are inviting each member of our community to take responsibility for their wellbeing. This initiative will give all of us the skills, knowledge and perspective to maintain a healthy and balanced life. That includes the ability to cope with adversity, build rewarding relationships and live with a sense of purpose.
URECA
Another innovative way our students are learning is by working alongside mentors. As they engage with an academic question, they are learning how to research, how to write, how to report. Through opportunities at the Undergraduate Research and Creative Activity Center, they are building relationships and learning to collaborate to solve problems. At our recent Research Day, 146 students had posters representing 133 projects.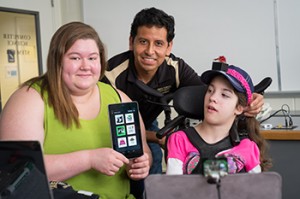 For example, Computer Science Professor Paul Pauca has been working on a wearable motion-sensing system that he hopes will prove to be a better way for ALS patients to communicate. Ally Kaminsky, a junior, was Dr. Pauca's assistant this summer, and she presented her findings at Undergraduate Research Day. "We haven't changed lives yet," she said, "but, we're on track."
Bethany Miller, a senior majoring in psychology, is studying with two doctors from the medical school measuring concussions in dancers.
Zachary Riley, a junior chemistry major, studied digital imaging technology with Pete Santago of the computer science department. The project seeks to ascertain whether this technology, which measures dimensions of the mouth, can help doctors intubate patients for surgery more safely and accurately.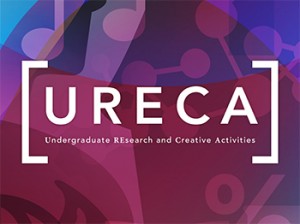 Working with Shannon Mihalko, associate professor of health and exercise science, Jenna Napoleone, a senior, is part of a study of range of motion in breast-cancer survivors.
Dee Nguyen, a senior politics major, studied the mail-order bride issue among Vietnamese women. More Vietnamese women are involved in international relationships these days, Nguyen concluded, because the society has modernized and has become increasingly exposed to American media.
And, Sam Cho, assistant professor of computer science and physics, invited four undergraduate research students to get some real-world experience. They participated in writing a review in the Israel Journal of Chemistry commemorating the 2013 Nobel Prize in Chemistry. One of his students said it was, "one of the most fulfilling experience of my life."
We are grateful, indeed, for all the fresh opportunities that enhance learning on this campus.
Student Success
How do we ensure great transitions from college to work or further schooling?
Another indicator of how well we're doing at Wake Forest is by tracking the success of our students.
Transitioning and Thriving After College
I recently read an astounding observation – as many as one-out-of three Millennials (young people ages 18 to 31) are living with their parents because of the sluggish economy and what some are calling a "failure to launch" among college graduates.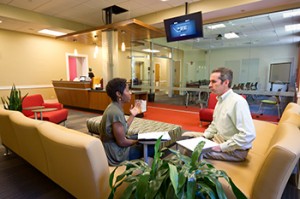 At Wake Forest, we have pioneered new ways to approach career development. Our "college-to-career" community has made us a national leader in rethinking the outdated concept of "career services."
For the second year in a row, CSO Research Inc. named Vice President Andy Chan "the most visionary and forward-thinking leader in career services and recruiting." Also on the list – at number eight – was Kate Brooks, executive director of the Office of Personal and Career Development.
But it takes this entire community, focused on the journey from college-to-career, to reap the incredible results we are seeing. Of the graduates from the Class of 2013 who responded, 98 percent reported being employed or attending graduate school. One great example was that the Oracle corporation, which recruits at only a select list of schools, came to Wake Forest for the first time last year. They made more than 30 offers and 27 Wake Forest students accepted positions.
We also launched Studio 230 this fall. It is a career incubator – a co-working space for the creation and implementation of career pathways. Students are able to create mind maps, explore their interests and assess their career paths.
Graduation Completion Rate
Another measurement gaining attention recently is the graduation rate of student-athletes. In the Graduation Success Rate report released by the NCAA last month, our student-athletes registered a graduation rate of 94 percent. That is 12 percent better than the national average and six percent above the average ACC mark.
All 14 programs performed better than the national average; 12 of 14 turned in a mark of 90 percent or better; and eight Demon Deacon teams recorded a perfect graduation rate.
Building a More Inclusive Community
We at Wake Forest today face the challenge and opportunity that our country has faced time immemorial: e pluribus unum – one from the many. How do we take a diverse set of learners and mold them into a community that, for all its disagreements, appreciates and those differences, engages each other with respect and civility, and together makes something greater out of the sum of the parts? We have a great opportunity to improve Wake Forest as a diverse learning community.
We have made tremendous progress in the past few years regarding issues of diversity and inclusion on our campus. For example, in the past five years, the percentage of students of color in our undergraduate student body has increased from 17.6 percent to 22.9 percent, and we have also greatly increased the number of first generation and international students on campus. Almost 10 percent of our students now come from abroad. We have enriched the lives of our Jewish students and our Muslim students with the presence of chaplains for those communities. We have established an LGBTQ Center and a Women's Resource Center.
But we are also a human community – hardly perfect. And we do not have long experience in developing a climate that is sensitive to those students, who exist on the margins of this institution. We are an educational community, and we have the responsibility and the privilege of building a diverse community out of many young people whose experience with diversity may be lacking in one way or another. We must ensure that as an institution, all of our faculty, staff and students, become more sensitive to treat each member of this community with dignity and respect.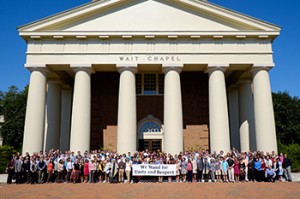 Last week, we held the largest Deliberative Dialogue ever held at Wake Forest. The Pro Humanitate Institute organized the event, interviewing dozens of key community members to produce an Issue Guide as well as a video that crystallized the current challenges. There were 19 different dialogue groups that proposed next steps for action to address campus climate and community.
The organizers are still sifting through the proposals for themes that will emerge as Action Teams. Preliminary analysis has suggested these key issues, which were also the subject of action planning and priority setting at this past weekend's President's Leadership conference:
Admissions
Shared Space
Orientation and First Year Education
Cultural Diversity in Curriculum
Diversity in Student Organizations
Opportunities for Dialogue and Peer Education
Unfortunately, this kind of community is increasingly rare in America today. We live in an age of polemics rather than persuasion; dueling communities speak largely to their own rather than to those who may differ – and the problem is compounded by social media and anonymous postings.
At Wake Forest, we need to cut against this grain, welcoming real diversity of thought and cultivating the art of listening – even to those whose opinions we do not understand or appreciate. The greatest gift we can give our students is an ability to disagree in the context of civility and friendship. That is a balm that our nation and world desperately needs.
The state of our University is strong. It is strong because of the tradition it was built on, and it is strong because people like you feel called to make this place excel on behalf of our students. Our future is bright but will require substantial innovation if we are to sustain and renew our cherished model of a special kind of liberal arts and professional education: one that combines quality, personal attention, real community, growing inclusiveness and a commitment to forming students who can lead lives that matter.
So let us cling to those essential commitments of this collegiate university. But let us also be open to real innovation in the ways we deliver education, in the way we engage our students, in the way we embrace those who differ, in the way we improve our business processes, in the way we maximize the use of these facilities, and in the ways we seek out new sources of revenue. Today, I challenge myself – and I challenge all of us – to think how we can do our work better and how we can enrich our community life.
Higher education today knows heavy winds and high seas. These are destabilizing many institutions and blowing many where they do not want to go. But I am confident that Wake Forest can chart its own course if we are confident of our distinctives and work, with might and main, to keep our orientation true. But in tacking the ship and setting the sails, we cannot be conventional. We must unleash all of our powers of creativity and innovation. In these times, we cannot fulfill our aspirations, admittedly traditional, by doing things the same old way. To preserve the essence of Wake Forest, we will need your continuing good will – and all the ingenuity that you can muster.
As we conclude, I do have one announcement. As we leave today, you will hear the regular playing of the 5 p.m. carillon recital. Today, it will recognize the 100th Anniversary of the start of The Great War, World War I. Let me thank Raymond Ebert ('60), our University Carillonneur, who will begin with our alma mater and then play such songs as "Over There," "There's a Long, Long Trail," and "Keep the Home-Fires Burning."
Thank you.
Recent Posts
June 30, 2020

June 12, 2020

June 9, 2020