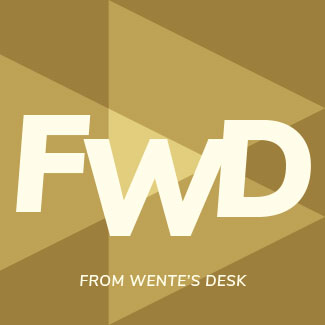 Last Friday marked the 14th time a new president was officially invested to lead Wake Forest. I am deeply grateful to everyone who was involved in making it such a special week for the university community, and for me and my family. Across all of the events — from the volunteer "kit-packing" and special Face to Face forum, to the Friday inauguration ceremony and then Sunday worship service in Wait Chapel, or on the dance floor at LVJM for the inauguration ball — I saw and felt tremendous energy, hope and confidence.
In my inauguration remarks, I posed a new question to campus: what does it mean to be a catalyst? This question arose in a general sense from my synthesis of our "great universities" conversations over the past nine months. But it was also inspired by a moment at Wake Downtown, earlier this semester. I had joined a biochemistry class where students were presenting their studies of different enzymes. In addition to posters, they had also used 3D printer technology to render models of the enzymes. It was fascinating to hear their presentations, ask them questions about the enzymatic processes, and hold the structural models in my hand.
I've studied enzymes throughout my career as a research scholar focused on life at the molecular and cellular level. Cells are home to many different types of chemical reactions; with enzymes being critical because they catalyze those reactions. The beauty of enzymes is that they do their work without diminishing themselves — meaning the process can be repeated again and again.
So it struck me as I thought about the student projects: what can we learn about being a catalyst from studying enzymes? The answer is: a great deal! In my inauguration address, I outlined three distinct ways — through binding, through lowering energy barriers and by being smart and targeted.
First, an enzyme catalyzes a chemical reaction by binding with another molecule — called a substrate — and enabling it to transform based on its own intrinsic chemistry. We see this concept in action at Wake Forest every day and in every corner. Through our work together, the institution binds to individuals, and they to the institution. That's why I'm calling on Wake Forest to embrace its role as a catalyst for learning and discovery.
Second, an enzyme catalyzes a reaction by lowering the amount of energy required to make something happen. This is the key to unlocking the potential of a substrate — and it's key to unlocking our individual potential as well. From new scholarships and mentoring programs to diversity and inclusion initiatives, we must ensure that everyone has the energy they need to achieve their full potential. That's why I'm calling on Wake Forest to be a catalyst for access and opportunity.
Finally, enzymes are smart and targeted. They catalyze in different ways depending on the circumstances. When it comes to Wake Forest, this translates in how we embrace what makes us distinctive: for example, our teacher-scholar model, our College's liberal arts core, our graduate schools, our beautiful Reynolda campus, or our presence in Winston-Salem's Innovation Quarter or Charlotte's Pearl District. So I'm calling on Wake Forest to be a strategic catalyst.
Without enzymes, biological pathways break down, restorative processes stall and fail, and potential remains dormant. And as we look around the world, we see misfiring catalysts everywhere – broken processes, stalled progress, pandemics of inequality and injustice. That's why, finally, I'm calling on Wake Forest to be a catalyst Pro Humanitate.
In an age where truth, science and civic virtue appear continually under threat — even in retreat– in a global society where war and conflict remain stubbornly persistent; great universities like Wake Forest have solemn responsibilities. But … they are also exciting responsibilities. We know we can make a difference. We know we can catalyze learning and discovery, access and opportunity, innovation and society. And we know we can inspire young people to lead the future with expertise and integrity. That's why, moving forward, I'm so excited to see what we can achieve together. It's why I'm so deeply honored to be your 14th president.