Dr. Susan R. Wente is Wake Forest University's 14th president and a Distinguished University Professor of Biology and Biochemistry.
Across her academic and administrative career, Dr. Wente has earned a reputation for thoughtful, future-oriented leadership focused on fostering institutional growth, academic excellence, and opportunity for all.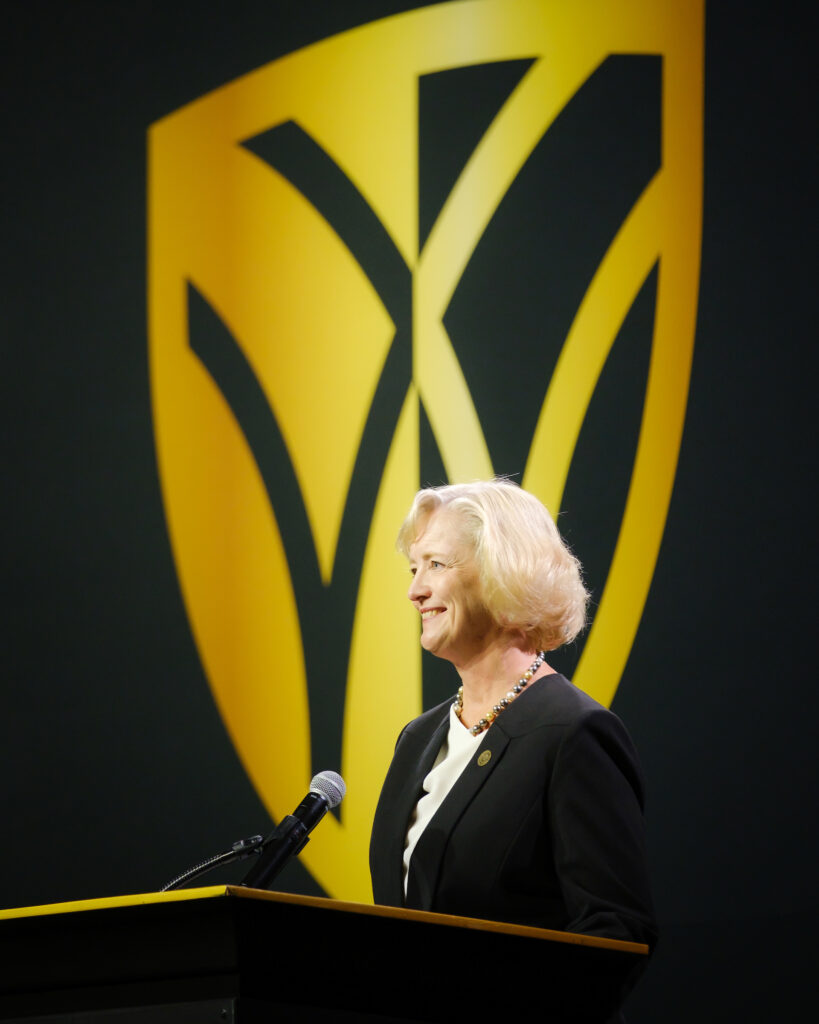 An internationally renowned biomedical scientist, Dr. Wente has maintained an unwavering commitment to research and teaching, mentoring dozens of students and fellows, and publishing more than 100 research articles. A pioneer of team-based, cross-disciplinary research, Dr. Wente's cell biology discoveries have laid the foundation for finding new medicines and treatments, as well as inspired her distinctive philosophy of leadership.
As President, Dr. Wente leads with trust, transparency, and teamwork as core values, and she believes the University's motto – Pro Humanitate – calls Wake Forest to be a catalyst for good in society.
Dr. Wente led an inclusive process to design a University Strategic Framework, a tool to align critical decisions about the institution's future, focused on building a community of lifelong learning, inquiry, and strong mutual partnerships. The Framework process engaged more than 1,000 Wake Forest faculty, staff, students, alumni, and friends in defining and affirming the University's deeply held commitments and aspirations, with an energized call to embody its motto, Pro Humanitate, at home and in the world.
Under Dr. Wente's leadership, Wake Forest has launched new initiatives focused on access and opportunity, including: the For Humanity initiative, which has raised more than $50 million to support new scholarships; and a new pathway for first-generation college students to come to Wake Forest through a specially designated Early Action process.
Recognizing Wake Forest's cherished sense of place as core to its identity, Dr. Wente has initiated assessment, planning and projects aimed at renewing the Reynolda Campus academic core and more effectively leveraging its real estate assets in service to the University's academic and research missions. In May 2023, President Wente approved a $1 million project to upgrade academic and classroom spaces on Reynolda campus in six academic buildings.
She has also led University-wide efforts to reckon with the University's complex history through how it honors and remembers those who have contributed to Wake Forest's story.
Dr. Wente arrived at Wake Forest in July 2021 following her service as Provost and interim Chancellor of Vanderbilt University.
Wake Forest Magazine
Read an interview with President Wente as she prepared for her arrival at Wake Forest.
---
Career Highlights
Positions held at Vanderbilt:
Interim Chancellor
Provost and Vice Chancellor for Academic Affairs
Associate Vice Chancellor for Research for the Medical Center and Senior Associate Dean for Biomedical Sciences at the School of Medicine
Professor and Chair of the Department of Cell and Developmental Biology, School of Medicine
Previous academic experience:
Assistant Professor and Associate Professor of Cell Biology and Physiology at Washington University of St. Louis
Postdoctoral Fellowships at Rockefeller University and Memorial Sloan Kettering Cancer Center
Education:
Ph.D. in biochemistry from the University of California, Berkeley
B.S. in biochemistry with Honors with Distinction from the University of Iowa
Selected Honors/Awards:
Triad Business Journal, 2022 Power Player
Nashville Business Journal's 2020 Women of Influence Award
Fellow, American Association for the Advancement of Science and the American Society for Cell Biology
MERIT Award from the National Institutes of Health (2010 – 2020)
Women in Cell Biology Senior Career Award from the American Society for Cell Biology (2011)
John H. Exton Award for Research Leading to Innovative Biological Concepts (2008)
Kirsch Foundation Investigator Award (2001–2003)
Beckman Young Investigator Award (1996)