A renowned biomedical scientist and visionary higher education leader, Dr. Susan R. Wente became Wake Forest University's 14th president on July 1, 2021.
Wente came to Wake Forest from Vanderbilt University. She served as Vanderbilt's provost and vice chancellor for academic affairs beginning in July 2014 and took on the additional role of interim chancellor from August 2019 to June 2020. At Vanderbilt, she advanced the excellence of academic programs and guided the university's response to the pandemic.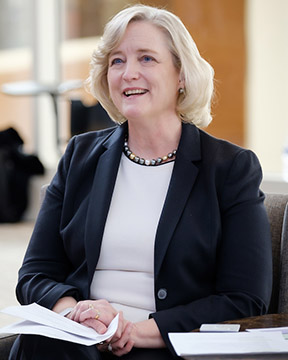 Wente has been widely praised for her bold and engaged leadership and for accomplishing a number of firsts, including the appointment of Vanderbilt's first female athletic director and the creation of the university's Office of Inclusive Excellence. Wente led Vanderbilt's efforts to launch a new structure for the university and medical center's academic relationship. She also oversaw innovative initiatives to enhance the undergraduate experience and elevate the arts and humanities.
Wente holds a doctorate in biochemistry and began her teaching career at Washington University's School of Medicine in 1993. In 2002, she was recruited to Vanderbilt and served as a professor and chair of the department of cell and developmental biology in the school of medicine. She advanced through the administrative ranks at Vanderbilt, serving as associate vice chancellor for research and senior associate dean for biomedical sciences, before becoming the university's provost.
While charting the course for higher education institutions, Wente has maintained a commitment to groundbreaking research. She personally has mentored dozens of graduate students and postdoctoral fellows. In the Wente lab, she and her team focused on understanding pathways between the nucleus and cytoplasm of cells. Wente has authored or co-authored more than 100 peer-reviewed research articles and served on editorial boards for leading academic journals in her field.
Wente earned a Bachelor of Science in biochemistry from the University of Iowa and her Ph.D. in biochemistry at the University of California, Berkeley. She was a postdoctoral fellow at both the Rockefeller University and Memorial Sloan Kettering Cancer Center.
Wente has received a number of honors and awards for her research, leadership and community engagement, including the MERIT Award from the National Institutes of Health (2010–2020), the Women in Cell Biology Senior Career Award from the ASCB (2011), the John H. Exton Award for Research Leading to Innovative Biological Concepts (2008), the Kirsch Foundation Investigator Award (2001–2003) and the Beckman Young Investigator Award (1996). She was named a Woman of Influence in the "Trailblazer" category by the Nashville Business Journal (2020). Additionally, she is an elected fellow of both the American Association for the Advancement of Science and the American Society for Cell Biology.
Wake Forest Magazine
Read an interview with President Wente as she prepared for her arrival at Wake Forest.
---
Career Highlights
Dr. Susan R. Wente, Vanderbilt University's provost and vice chancellor for academic affairs since 2014, also served as interim chancellor from August 2019 through June 2020.
Other positions held at Vanderbilt:
Associate Vice Chancellor for Research for the Medical Center and Senior Associate Dean for Biomedical Sciences at the School of Medicine
Professor and Chair of the Department of Cell and Developmental Biology, School of Medicine
Previous academic experience:
Assistant Professor and Associate Professor of Cell Biology and Physiology at Washington University of St. Louis
Postdoctoral Fellowships with the Rockefeller University and Memorial Sloan Kettering Cancer Center
Education:
Ph.D. in biochemistry from the University of California, Berkeley
B.S. in biochemistry from the University of Iowa
Selected Honors/Awards:
Nashville Business Journal's 2020 Women of Influence Award
Fellow, American Association for the Advancement of Science
MERIT Award from the National Institutes of Health (2010 – 2020)
Women in Cell Biology Senior Career Award from the American Society for Cell Biology (2011)