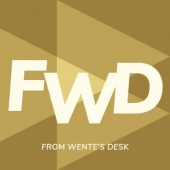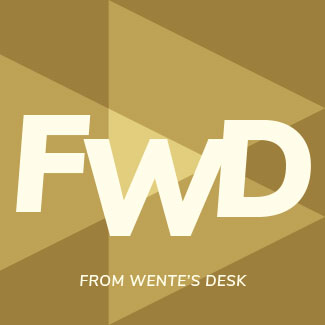 While commencement festivities this month marked the beginning of our graduates' next adventures, they also signaled the completion of our 2021-22 academic year. This year's events were especially beautiful — returning to Hearn Plaza and with Baccalaureate and five separate hooding ceremonies in Wait Chapel. My most sincere gratitude to our staff and faculty for the successful hosting of such an incredibly memorable set of experiences for our students and their families.
Most members of the Class of '22 arrived at Wake Forest in the fall of 2018. Looking back, that was the only academic year where their studies were not conducted amidst the tremendous upheaval and uncertainty of the COVID-19 pandemic. All our graduating students had to navigate an entirely new learning landscape (as did staff and faculty!) And now, they inherit a rapidly evolving and immensely complex world. To reiterate what I said during my Commencement remarks: the patience, adaptability and resilience that our students developed during their studies here now form a well of character from which they will continually draw in their personal and professional lives. Actually, this is true for all of us.
Commencement also marked the conclusion of my first academic year at Wake Forest. I'm so grateful for what we've learned and experienced together. Stand-out memories from the Fall semester include the launch of the African American studies program, welcoming a spirited and determined Madeleine Albright to campus, and giving my first presidential address. It was also great to experience a record-breaking football season, as well as unprecedented season-on-season progress in men's basketball. From the spring, I remember the revelry of Wake 'N Shake dancing with fellow Wake Foresters at the inauguration ball, celebrating the men's and women's golf teams winning their respective ACC Championships, and meeting with our national championship debaters. In all these moments, we relished a new level of engagement and energy on campus — especially true on stage in "She Loves Me."
Of course, there were serious moments as well, when we had to meet challenges outside of our control like the Weaver Fertilizer Plant fire. Undoubtedly, such events cause stress and frustration, and they are also times when it is important that we band together and help one another. This unity was also evidenced as we sought to live out our commitment to fostering a more inclusive learning and working environment. From the Founder's Day Convocation to the Universities Studying Slavery conference, and Commemoration of the Enslaved service, we created spaces for reflection and remembrance of Wake Forest's history. And, through a range of endeavors — for example, the new pilot process for honorific naming — we are building on thought and reflection with action.
One thing is abundantly clear over the course of my first full year: Everyone at Wake Forest is unified by a deep care for this institution, and a heartfelt desire to ensure that we are a place where all members belong and thrive. A further example: our Inclusive Teaching Conference in April, where more than 400 faculty and 100 staff met in seminars and workshops to affirm their commitment to breaking the bias habit. I remember arriving at the conference, hearing that 70 percent of our faculty were present throughout the day, and thinking to myself, "This couldn't happen anywhere else."
As we look toward summer, I feel a special energy at Wake Forest. We have for many decades strived to fulfill the responsibilities of a great university. Building on this foundation, we have entered a new and exciting chapter — just like the departing class of '22, and just like the incoming class of '26. How we fully realize the next chapter is up to all of us working together— and that's where the design process for our university strategic framework comes in. We have already begun this work over this past academic year and have included your answers to my question: "What's expected of a great university today?" – answers which are shaping the themes for where our future efforts can be focused. Future blog posts and communications will share a structure and timeline for the design process during the 2022-23 academic year as we consider how to build on what distinguishes us and identify ways that move Wake Forest further forward.
Thank you for being partners in our mission, for supporting one another through both celebrations and challenges, and for the many ways you contribute to this incredible community. I am deeply grateful for each of you.