Universities as partners in the talent pipeline
Main Content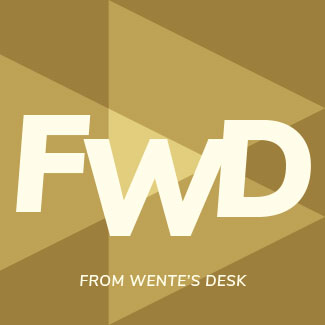 Over the past year, I have learned so much about all the different ways our university works with our city, region and state. As a great university, our reach is broad; yet, a critical role we play locally is contributing to the economic development of Winston-Salem, the Triad and North Carolina.
During September, I spoke with a number of different groups about the relationships between Wake Forest, Winston-Salem and our region — including the Piedmont Triad Partnership, Greater Winston Salem Inc., the Winston-Salem Rotary Club, and with leaders at events held across the community.
At each of these events, I sought to share our story, to connect with local leaders, and to discuss ways we can better work together across higher education, business and civic groups. And I took many questions! How does Wake Forest envision partnership within the city and region? What are your thoughts on students remaining in Winston-Salem after their time at Wake Forest? How can we work together more effectively to ensure a bright future for both the city, the region and the university?
It would be a long blog post if I repeated my answers in full here. But here are some of the key points I highlighted. First, I reiterated that Wake Forest contributes substantially to the regional workforce. Together with Atrium Health Wake Forest Baptist, we are the largest employer in the Triad, and were recently named by Forbes Magazine as the best employer in the state.  Second, we are an economic driver for the region through sporting and cultural events — from the Demon Deacons and Paul McCartney playing on Truist Field, to basketball and Face to Face at the Lawrence Joel Veterans Memorial Coliseum. Third, we collaborate with local business development and entrepreneurship to enhance Winston-Salem on a number of fronts — from Whitaker Park and Reynolda Village to Wake Downtown and the Innovation Quarter. 
Another key point I made was that while Wake Forest's core missions are teaching and scholarship, these missions directly benefit our region's push to develop the workforce talent pipeline. Just as Wake Forest is navigating the changing recruitment and retention of workforce talent as we evolve out of the pandemic, so too is our city and region. How we prepare the next generation of individuals who are ready to contribute to society is core to not only the needs of our greater region, but also to our nation and the world.
It is worth noting here that 86% of Wake Forest's undergraduate students come here to study from outside of North Carolina. This means we are a great front porch for introducing people from all across the world to our state, region and city. And, because 23% of our students stay in North Carolina after graduating, we are not just recruiting people to the state, we're retaining them as well. Through recruitment and retention, Wake Forest has a direct benefit on the economic development of North Carolina. Great universities need great cities… and great students, staff and faculty need both. In partnership with our civic, business and education community, Winston-Salem and our region will be an even more attractive place to live and work. And with our university's expanding presence in Charlotte, Wake Forest is a pathway for ideas, talent and education that will flow between Winston-Salem and Charlotte.
Finally, I spoke at each event about Wake Forest's strategic framework. Through our educational mission, we catalyze each individual student's learning and discovery so they can become leaders with integrity. Through research, scholarship and creative expression, we also catalyze innovation and society, addressing some of the world's most pressing problems in the process. Better understanding the intricate links between what we do as a university, and what it is that the larger society needs in terms of leaders and ideas, will be critically important as we set our course for the future and address the changing talent pipeline needs of our society.
Currently, our strategic framework teams are actively seeking input to inform our thematic goals and aspirations. I look forward to announcing these anchors for our framework at my annual address on November 18 (look for more details soon). As I've said before, ​​I am committed to continual feedback loops, and there will be cycles of opportunities to give your input throughout this year. I want to hear from you! A wide range of ideas, insights and observations are needed to inform our next steps and the choices we will make. Please continue to keep an eye out for upcoming sharing sessions, Wednesday with Wente, Gold and Black chats, and other forums. Together, as the entire Wake Forest community — staff, faculty, students, alumni, trustees, supporters — alongside our civic, business and higher education partners, we can deepen and sustain our university's call to greatness as we develop workplace talent and co-create solutions for humanity.