Delivered in Wait Chapel on Feb. 16, 2023. Remarks as prepared.
View Full Video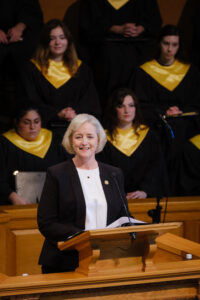 Welcome, everyone. It is wonderful to be with you to celebrate Wake Forest's 2023 Founders Day.
We are especially humbled by the attendance of Provost Emeritus Dr. Ed Wilson, and his wife Dr. Emily Wilson.
Those who know me well know that I love traditions.
Traditions help us mark the passage of time, celebrate milestones, remember people and places we love, and carry forward the practices and rituals that contribute to our unique identities both as individuals and institutions.
And the way traditions tend to evolve and change over time is also an important indicator of our shared culture and identity as a community.
I often ask our students and alumni about their favorite Wake Forest traditions – you see, I have always found that understanding the traditions — both formal and recognized, as well as those that are informal — reveals so much about the character of a community… and what it holds dear.
In these conversations, I have learned our community deeply cherishes and celebrates its people. 
There's Arnold Palmer Day, and Chris Paul Day, and the Maya Angelou Garden Party at Wake Downtown.
And while Wake Forest celebrates its exemplars — people who have contributed to the University as we know it today — we also acknowledge and remember those whom our history has previously obscured.
Traditions like the University's annual commemoration of the enslaved, held in April each year, invite us to continually expand our narrative by how and who we honor and remember.
Both the celebrations and the commemorations of our people are critical to who we are, and……. who we strive to become.
Our traditions also highlight our unique sense of place, and how important our spaces and places are to our community;
Several take place right here in this space — LoveFeast, First-year convocation, hooding ceremonies for graduate students, and baccalaureate;
And just outside on Hearn Plaza — a space that often leaves a profound imprint on prospective students when they take their first tour, and again when they return for orientation; and perhaps most meaningfully, when they return "home" many years later as alumni;
The lighting of the quad in winter…
The place where commencement and graduation
celebrations happen…
And at this time of year, where a gentle breeze often ruffles streams of toilet paper in the trees. 😉
Through listening to and learning about Wake Forest's traditions, from being in our places and spaces, each member of our campus community experiences our commitment to Pro Humanitate.
And I have never experienced any college or university community where students so enthusiastically share acts of service as the rituals that matter most to them in the same breath as the other traditions I have mentioned.
Hit the Bricks, Project Pumpkin, Wake and Shake…
Having taken part in these traditions too – I can say they are truly powerful, distinctive features of our Wake Forest;
Here, we don't just have a motto: we embody it – we live it.
I am so happy to see so many different groups representing our community here today to celebrate this tradition, Founders Day — faculty, staff, students, trustees, alumni, administrators, neighbors, and friends.
There are not many traditions that bring such a diversity of community members together under this roof.
Last year, on this day, I asked our community a big question: What will we found together?
For I believe that universities are the accumulation of many foundings, and many founders, that compound over time — that we are always evolving, stretching, and renewing,
All toward defining clearly who we are and who we will become.
We have the ability to forge new paths because of our strong foundation. 
Who we are as a community, the strength of our identity, — our deep commitment to people, place, and Pro Humanitate, already differentiates us from other universities, making it possible for us to weather seasons of change, while remaining, as the alma mater reminds us, constant and true.
Indeed, we are in such a season right now.
Our community is deeply engaged in self-reflection; thinking about our past, what we have learned, how we have grown, in order to imagine forging new pathways and embracing change we approach our third century.
And at the same time, we are surrounded by transformative changes in our world:
changes resulting from astounding discoveries in medicine, technology, and science;
changes necessitated by unfathomable tragedies;

such as the recent earthquake in Syria and Turkey; 

or perpetual injustices such as the recent killing of Tyre [Ty-Ree] Nichols in Memphis,
or the recent violence and loss of life such as this week at Michigan State University.
All of these changes here and in the world that challenge us to find solutions,
— to strengthen our resolve,
— to care for one another, and
— to continue striving forward for a better future.
So let me share my hopes for today.
I hope that you believe, as I do, that Wake Forest can be a true catalyst for good; and that in times of change and turbulence, we will lean on one another, our strong foundation, and our traditions for inspiration and clarity of shared purpose.
And, as a believer in the power of traditions, I hope Founders' Day remains and becomes an even more meaningful moment in the Wake Forest calendar for our community;
A day we pause to reflect on our history, with honesty and humility, and with the gift of perspective that comes with the passage of time.
A day we honor and remember our people — those who have paved the path forward for us, in ways large and small, acknowledged and unacknowledged.
And a day to remember why we are here — For Humanity. For others. For one another.
Thank you for being part of this tradition and celebration of Wake Forest today.