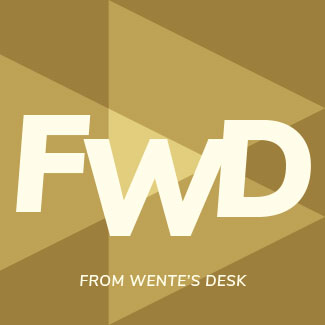 As one of our most beloved Wake Foresters Dr. Maya Angelou once said, "Everything in the universe has a rhythm, everything dances." As I reflected last month, perhaps nowhere is this more true than within the confines of our academic community. The predictable, even comfortable, rhythms of life in academia help us to focus on why we are here — to educate our students, engage and deepen our scholarship, and continue to advance Wake Forest as a catalyst for good in society.
But, sometimes, it's also good to dance.
Our Class of 2023 graduates did just that (see the celebratory moments) as they crossed the stages of Wait Chapel and Hearn Plaza during our graduate hooding and commencement events. Perhaps no other day makes all the work we do together feel more profoundly worthwhile than when we celebrate our newly minted graduates and their accomplishments before they leave Mother So Dear and venture out into the world.
As I addressed the Class of 2023 during each of our ceremonies, I frequently repeated these three simple words: You are ready. Sometimes the simplest messages are hardest to hear – particularly as our graduates (and in fact, all of us), face uncertainties and complex challenges in our society and the broader world.
In spite of those challenges, I am confident our Wake Forest graduates — armed with an exceptional education and many meaningful curricular and co-curricular experiences — are ready for what's next.
And as I look back across the academic year, I believe we, too, are ready as a community for what's next. This year's strategic framework process has helped to reconnect our community and galvanize us in service of a shared vision: ensuring that Wake Foresters embody Pro Humanitate at home and in the world. As Killian Noe told our graduates in her Commencement address, you are "steeped in Pro Humantitate. You understand that what gives purpose and meaning to life is not what we get, but what we give."
As we transition into the summer, I feel profoundly grateful to be here at Wake Forest right now, at this very special time. My many hundreds of conversations with Wake Foresters across the community this year have demonstrated just how dedicated our people are to our shared mission, to our cherished sense of place, to Pro Humanitate, and to each other. Thank you for a terrific academic year, and may you find comfort in the rhythms of the summer months … and opportunities to dance.